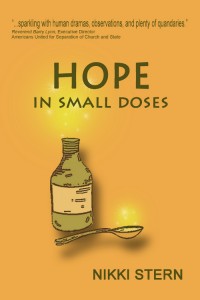 Hope. It's a small word rife with shades of meaning for different people. Dissecting the ways in which hope can be defined, interpreted, and applied in daily life makes for an interesting and thought-provoking book, Hope in Small Doses by Nikki Stern.
Though this book comes in just around 130 pages, it wasn't a quick read for me, as I had to stop and mull over ideas and perspectives as I went along. It made more sense to read about a chapter a day, think about it, go back when needed, and simply try to figure out how my own feelings fit in with the author's. Stern doesn't present solid answers here, though her personal convictions are passionately described alongside the questions that she poses for consideration.
Inevitably, hope within the framework of religious beliefs is an explored topic. Stern is open about her non-deistic approach in thinking about hope, and as this book is published by Humanist Press, I expected this framework. Personally, I appreciated the declarations of being able to retain hope even without a commitment to religious beliefs or practices, just as atheists and agnostics can believe in the importance of moralities without ascribing them to a religious doctrine or system.
Within this discussion of hope, the ideas of purpose, happiness, faith, and coping all make appearances as important factors in our approaches to hope in our own lives. Stern applies her own experiences of loss– her husband died in the World Trade Center on 9/11 and both her parents died within a short time frame after significant declines in health– to the arguments some may give both for and against hope. Her candidness and strength are inspiring.
What I thought at first was a simple concept– hope– became a much more nuanced and multi-layered topic to spend time pondering. Hope in Small Doses makes for an interesting read with a philosophical bend that will leave readers thinking long after turning the last page.
Dawn's natural pessimism makes for a unique relationship with hope, but thankfully they are not mutually exclusive. Her rants– and declarations of hope– make appearances on her blog, my thoughts exactly.