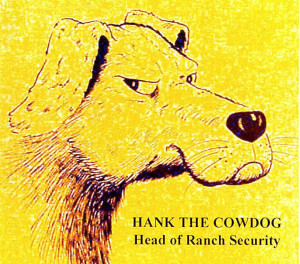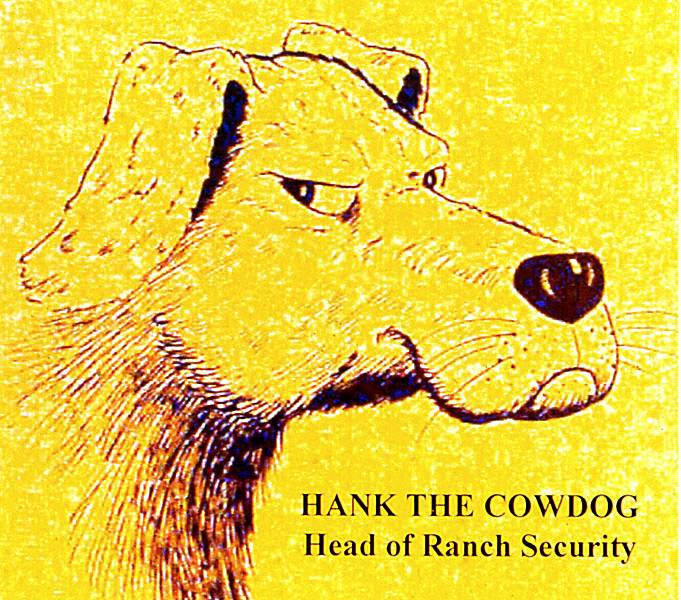 Raise your hand if you have NOT heard of Hank the Cowdog. On second thought, don't! It's better not to admit such things.
Hank the Cowdog is nothin' new. He's been on the scene, saving the ranch from certain doom (or utter chaos) since 1982. (He was likely before that, but that's the year he began telling us of his adventures.) Written by John R. Erickson, Hank is good old fashioned Texas fun. On a ranch. As viewed through the eyes of a very important cowdog.
Hank is a very special sort of dog. You see, he takes his job as head of ranch security very, very seriously. He is mindful of his duties and responsibilities in keeping the ranch free from raccoons and other things like dangerous coyotes which circle the ranch in hopes of killing off some chickens. Hank, well, he's all about dedication and loyalty. Therefore it wounds him deeply when the humans on the ranch tell him he stinks (after bathing in the sewer!) or go about telling him to shut up (when he won't stop barking to warn them of impending doom!). He tries his best to make the people on the ranch understand him, but more than often than not he is severely misinterpreted. It doesn't help when other animals on the farm, such as Pete the Barn Cat, antagonize him in secret and then play the victim once the ranch owner's wife shows up on the scene to see what all of the fuss between the animals is all about. Poor, misunderstood Hank!
This may seem somewhat dry and boring to you but it isn't, oh it isn't! Erickson has a fine sense of dry humor which causes the reader to laugh out loud. The way he describes Hank's feelings and thoughts on life in contrast to actual reality is a hoot! Now, if you know me well (here or at Reading to Know) then you know I'm not much of a books on tape sort of person. Hank is where I make my exception. Erickson did a recording of each of his Hank books and I'd almost rather listen to Erickson than read Hank for myself. Erickson does all of the voices for his characters and adds in funny songs which leave you grinning (and sometimes singing along). I grew up on Hank, as my family would listen to him on long car rides and also around the house. Everyone in the house loved Hank. And now that my brother and I are all grown up and everything, we've been introducing our children to this good ol' cowdog. (My nephew had a Hank the Cowdog themed birthday party for his first birthday!)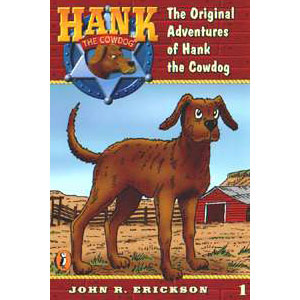 I recently decided to go ahead and read The Original Adventures of Hank the Cowdog
aloud to my boys (ages 3 and 5) and even at their tender ages, they found things to love about Hank. Many times during our reading – especially when we were reading about the coyotes – they would laugh outloud. (Disclaimer: I didn't realize the use of the word "damn" in the books before I was reading them aloud! I guess I had previously glossed over that. Obviously I substituted other vocabulary words in place of that one!) My boys loved Hank (as I knew they would)! I loved reading about him to them! I do confess, however, that our reading was interrupted that when I got to the following passage and started laughing so hard I had to put the book down. I buried my head in my hands and wiped away the laughing tears and my oldest had to ask what was wrong.
"Those buzzards that had been floating around the rim of the canyon had dropped in for a visit, two of 'em. They were perched on the ground near the edge of the pool, staring at me. I showed 'em some fangs right away. I mean, I try to be friendly and all that, bu t there's just something about a buzzard that don't sit right with me. Maybe it's because they're so ugly. Looks ain't everything in this life, unless you happen to look like a turkey buzzard, and then they're pretty crucial. It's hard to be friendly to something that ugly." (Chapter 6, Buzzards)
I laugh because I think it's funny and because I have Erickson's/Hank's voice in my head. While I was very happy to read Hank to the boys, I'm looking forward to them hearing him as he is because that makes the stories all the more pleasurable. After reading the book I bought the first two books on CD so that we can get on with our adventures in a correct manner. Also, shortly after we read this book, we had some buzzards circling a dead rabbit around our property. Here's a picture that my husband, Jonathan, took of one of the birds:
See? Ugly! Hank was right!
Hank is tradition in my family and I'm glad of it. I can't find a picture of the cover art for the edition which I own. (I have a fifth printing, yellow paperback with coyotes howling at the moon.) I've pictured an earlier edition of Hank above which matches the illustrations contained in my copy. Perhaps more special to me though is the fact that my copy of the book was gifted to me by my great-grandmother. She wrote the following inside the front cover:
"1985 – Happy Birthday, Carrie.
Hope you enjoy Hank as much as I have.
I love you,
Grandmother Alice"
I have enjoyed him! Very much. And now I'm enjoying the same book with her great-great grandchildren which is pretty cool and special, I think! Yup, we love Hank, and hopefully our family will go right on lovin' him for years and generations to come! He makes for fun history. If you haven't yet made his acquaintance – do!
Additional note: I've labeled this as children's fiction as that's usually the section of the bookstore where you'll find Hank. (He's usually located under Middle Grade fiction.) However, I tend to think of him as being ageless. Let's say he's good for ages 3 and up, if read correctly, shall we?
Carrie loves sharing stories with her children and talks about their shared reading adventures fairly frequently over at Reading to Know.