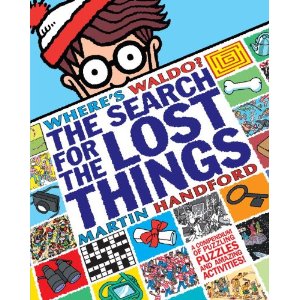 This is not your traditional Where's Waldo? book. Where's Waldo? The Search for the Lost Things
, by Martin Handford, is a "compendium of puzzling puzzles." In other words, it does not contain just Where's Waldo? scenes wherein you are to find the little red and white striped hat fella. This book contains a myriad of puzzles involving Waldo and his friends to keep your child occupied and engaged in a different sort of way than usual.
Inside of this book you will find word scrambles, dot-to-dots, and mazes to puzzle out. As the title suggests, the young sleuth who is holding this book is supposed to be helping Waldo find lost things. So, for example, one page includes a list of items which Waldo was supposed to have packed for his trip but forgot to put in the suitcase. There is a scene then in which you are to look for the items listed.
There are also pages where you have an allotted time to memorize everything you see. Turn the page and solve a riddle or a question based on the previous page and your very good memory. (Well, we hope and trust that it's very good!)
There are crossword puzzles and sequence problems and plenty of tiny little figures running around on the pages to look at. It's all very Waldo-esque. If your child likes puzzles and mind benders, there are 96 pages which should keep them entertained for a bit. (I'm honestly afraid to think of how long it would keep me "entertained." Some of these puzzles do not look so easy!) Where's Waldo? The Search for the Lost Things
is marketed to ages 7 and up and I would guess that to be about correct. My oldest son is five and he's a puzzler, but I think this one is too far above his head as yet. I would definitely hold off on giving it to him for another year or so, but I imagine he will like it at the appropriate time. I believe he will have fun with it.
If you have any questions about content that would help you to determine whether this book is a good choice for you and yours, please leave a comment below and I'll answer you as best I can!
Thank you, Candlewick Press, for shooting a copy of this one my way in exchange for my honest opinion.
Carrie blogs about books for children and adults over at Reading to Know.