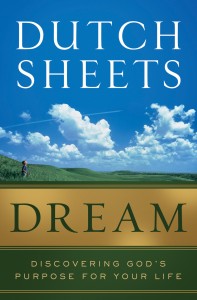 Since reading a Sharon Jaynes book on dreams (The 5 Dreams of Every Woman) as part of a women's book study at church this spring, I have been reflecting more and more on my own dreams in life–which ones have come true, which ones haven't yet, and even which ones I have given up on completely. Because of my recent focus in this area, I was immediately drawn to the new book from Bethany House by Dutch Sheets, entitled Dream: Discovering God's Purpose for Your Life
, and was so glad to have the opportunity to read it for a review.
Sheets focuses our attention on the origin of dreams right from the introduction, where he shares how our dreams are a gift from God:
Your Designer dreamed dreams for you before you were even born, then skillfully wove them into your DNA as you were created, along with the ability to find and fulfill them. His destiny for you will be the sum of those dreams. The journey of life, then, is meant to be a dream quest; finding what your Maker has dreamed for you brings life's ultimate satisfaction and should be life's ultimate pursuit.
Continuing with this theme, he shows us how dreaming started with God at creation, and how God has never abandoned His dreams for us, despite our turning away from Him. Because of this example, we can look to God when we are discouraged. Just as He hasn't stopped pursuing the dream He had at the beginning of creation, He can help us keep following the dreams He has placed in us even when we are losing hope due to loss or pain.
So what is the point of all these dreams, you might ask? Well, Dutch Sheets contends that "dreams and destiny are connected." Furthermore, he tells us, "if you don't dream, you'll never achieve your destiny. A desire to discover and fulfill one's purpose is one of the strongest forces driving us."
The first step to dreaming is being connected to the author of dreams, the Lord. We must also recognize that dreams are given not just to bless us, but to benefit others as well. When we lose sight of our dreams and let go of our connection with God, we are vulnerable to a number of consequences, including:
being out of control and headed for disaster
being unprotected against wrong choices, compromises, and distractions
missing divine opportunities
being unmotivated to work
being unteachable
being disconnected from others
Sheets mixes personal stories and examples from history with the Biblical accounts of those who have followed God's dreams for their lives, such as Abraham, Caleb, and Jacob. I appreciated his dependence on Scripture, as well as his explanations of the meaning behind some of the original text and the significance of certain places and actions taken by the men he used to illustrate his points.
Whether you have lost sight of your dreams altogether, or are just in need of some inspiration as you wait for their fulfillment, Dream is a thoughtful look at the greater purpose in all of our lives. Each chapter also includes several review questions, making it a useful resource for either individual reflection or group discussion.
Trish is thankful that her dreams are coming back and most of all for her connection to the author of dreams. You can find Trish online at her blog, In So Many Words.
You May Also Like: