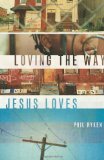 These days, you can't check your Facebook or read the news without being confronted with someone's idea of how Jesus loved. Even Newsweek has a cover story this week about it. On the one hand, we are (rightly) told that Jesus cared for the poor and needy and loved justice, and instructed us to do the same. On the other hand, his name is tied to all sorts of causes from both extremes of the political spectrum. Which Jesus is more accurate?
Phil Ryken answers this question in his new book, Loving the Way Jesus Loves
. He takes one of the best-known passages in the Bible, I Corinthians 13, the one that's often read at weddings (For those of you not familiar with the Bible, this is the one that goes, "Love is patient. Love is kind…the greatest of these is love."), and uses it as a frame to examine various examples of Christ's love by looking at the source—the first-century writings of those who actually spent time with Jesus, which we know as the Gospels.
Although the book contains plenty of scholarly research and a compilation of thoughts on different aspects, the goal is devotional. As I read, I was moved to consider ways in which I could be doing so much better, and to thank God for the ways in which he loves me. Each chapter takes a phrase from I Corinthians 13, looks at what it means, and then studies ways in which Christ exemplified it. It's accessible yet profound at the same time. There are also discussion questions in the back.
Artist Gene Schmidt decided to see what the text of this famous passage on love would look like when placed throughout the streets of Philadelphia, the "city of brotherly love." He lined up square panels of reclaimed scrap wood, each with a letter cut out like a stencil. The book includes photos from that project, and they are breathtaking (See more at Schmidt's site: www.lovetownpa.com).
For those looking to deepen their love for God and for other people, for those curious about what Jesus actually had to say on the subject, Loving the Way Jesus Loves
will convict and inspire you at the same time. Highly recommended.

Elizabeth doesn't speak with the tongues of men and angels, but she does like to write out her thoughts on various subjects. Read more at her blog Planet Nomad to decide whether you think she's a noisy gong.