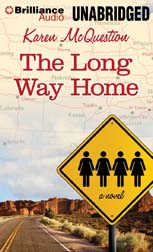 The Long Way Home by Karen McQuestion is a feel-good friend novel — one of my favorite subjects. The unique thing about these "friends" is that they really aren't.
Four women who haven't known each other very long are thrown together by a circumstantial meeting, and the big heart of Jazzy, someone whom they all have in common. They take a road trip from Wisconsin to Las Vegas (or at least that's their intent). Of course, they all undergo some self-examination and positive change — or else it wouldn't be a women's fiction friend buddy story, now would it??
Jazzy is a young woman who is always looking out for the needs of others. At first she comes across as too good to be true, but I think that there really are people out there who are specially tuned in to others' feelings, and who actually look beyond themselves to act. She's sweet, bubbly, and inspiring. She's a little odd as well (having the same sort of telepathic gift her grandmother did), but I think that's part of what made her seem real and not just a caricature.
Rita meets Jazzy at a support group for those who have suffered a loss. Jazzy reminds Rita of her daughter, who was murdered when she was about Jazzy's age a few years ago. Rita misses her daughter, but mostly she wants justice for the man whom she knows killed her. Other than this tragedy, she's a happily married middle-aged empty-nester — sensible and bossy.
Marnie meets Rita and Jazzy when she attends the support group against her better judgement. She too has suffered the loss of a child, but in a very different way. When her partner died, her teenage stepson went to Las Vegas to live with his mother. Jazzy encourages Marnie to go visit him and Rita agrees to go along for the ride to support them because of the way she's drawn to Jazzy.
Laverne is Marnie's elderly reclusive neighbor who she had never even met. Jazzy had apparently met her when she was visiting Marnie. Though it seems crazy, Jazzy asks her to go on the road trip because it really seemed like she needed to go with them. She breaks through her fears and joins them, bringing a joie de vivre (and more bathroom stops) to the trip.
AUDIOBOOK NOTES:
It took a while for me to get accustomed to Tanya Eby's reading of this novel. She voiced the different women quite well, giving each a distinctive personality, which made the story easy to follow. At times the reading seemed very robotic, especially at the beginning before I got used to her style.
However, I was soon so enamored by these real, quirky women that it fell into the background and I was simply able to enjoy the story. And though that might not seem so flattering to the person recording the book, having the reader disappear so that the story takes center stage is actually a pretty good thing.
You can hear a sample at the Brilliance Audio site.
Jennifer Donovan is a fan of road trips, audiobooks, and her friends. She blogs at Snapshot.