Jennifer here — I'd like to welcome our newest reviewer, Trish. When we decided we needed to add a reviewer, I thought of her, because of her longtime participation on our site — as an frequent commenter and involvement in our monthly community link-ups. In addition, her wide reading preferences, from mysteries to Christian fiction, to nonfiction, have already confirmed that decision. Join me in welcoming her!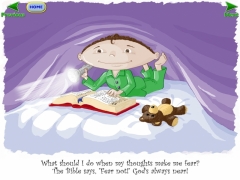 Who doesn't remember lying in bed as a child listening to the various sounds in the night and being a little bit (or a lot) afraid? I certainly do.
The new book app The Sounds of Night is perfect for easing those childhood fears. First and foremost, it is a charmingly illustrated story of a young boy who is afraid of the sounds he hears while trying to fall asleep at night. It is written with simple text that can be read by a parent or other reading partner, played on cue by the child pushing a button on each page, or played automatically with the pages advancing on their own.
The focus of the story is on God's promise to always be near to us, as well as a reminder that God made all of the creatures in our world.
In addition to the story itself, The Sounds of Night includes over 75 interactive features, which are touch points within the pictures of the book. For example, touching a lamp or a light switch will make the light go on and off, touching a bush in the yard will make it rustle, and touching one of the animals will cause it to make its sound again.
Some of the touch points are also helpful for learning and reinforcing vocabulary, especially for very young children. When you touch the grass outside or a blanket inside, you will both hear the word spoken and see it written on the screen.
This app is designed for children from ages 2-8, which seems to me to be an accurate range. My son, who is 9 years old, checked it out thoroughly and, although he thought the story was more appropriate for a younger child, he definitely enjoyed the interactive features.
A friend, and mom to a 2 1/2 year old, felt that her son would love having the story read to him and would also enjoy being able to do things like turn the lights on and off and make the bushes rustle and the teddy bear squeak. Both my friend and I commented that the menu buttons were a bit small and hard to press on the iTouch version of the app, but my son didn't seem to have any difficulty with them.
The book app was developed by Jessica Kirkland of Christian Apps 4 Kids, in partnership with ROAR. It is available at either the Apple App Store or the Android Marketplace. Click here for the QR codes for your smartphone or other device, or take a minute to watch the trailer:
If you leave a comment on the post at my blog, you will have a chance to be entered into a Best Buy giveaway drawing.
A voracious reader and mom to an amazing son, Trish covers the spectrum from autism to books to daily life at her blog In So Many Words She is thankful to Jessica Kirkland for the gift copy of the app and to all the reviewers at 5 Minutes for Books for welcoming her so warmly to the team.