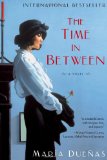 The Time in Between
is an epic-length novel that follows the life of Sira Quiroga from poor working girl to international spy. The novel opens with Spain on the brink of civil war and Sira as a poor apprentice seamstress, working with her mother in an atelier in Madrid, proper and dull and dating a quiet serious man who plans to be a civil servant. Two men sweep into her world and break it apart—one her father, until then unknown, a rich, powerful and well-connected businessman who had a brief affair with her mother and gives her the family jewels; the other an unscrupulous typewriter salesman, an obvious con-man, who elopes with Sira to Morocco and then abandons her, pregnant and penniless and with a high hotel bill that she has no way of paying (he steals the jewels).
Sira, however, proves to be the kind of person who always fight her way forward, and finds her feet. She sets up an atelier in Tatoun, then a part of Spanish Morocco, and thanks to her skill is soon sought-after and accepted in high society. She sews stunning dresses for the bored socialite wives of the German officers, and befriends the influential Rosalind Fox, an English woman who is having an affair with Spain's high commissioner in Morocco. She meets an English journalist who helps her get her mother out of Spain in exchange for unlimited access to Rosalind's lover, and he and Sira have a close relationship, although Sira is still very guarded. Her friendship with Rosalind leads step by step to the point where Sira finds herself back in Madrid but this time as an international spy with a new name and new passport. She finds herself having to rely on her wits, something she's well-trained in, as she observes and reports on her clients and moves in high society herself. When she steps out onto the train platform in Lisbon, Portugal, clad in an elegant suit and heels and hat amidst the clouds of steam and smoke, and on a dangerous mission that will use all her wits and charm, readers will sigh with satisfaction.
The Time in Between
is a fun novel. Descriptions of Sira's haute couture clothing add elegance and the setting and time are fascinating. I enjoyed the vicarious experience of lunch on a terrace in Spanish Morocco, or tea at an international hotel during a time when hotels were much more glamorous than they are now. It was a new perspective to look at life in Spanish Morocco during Spain's Civil War and the lead-up to WWII. I will say that at 600 pages, it's a little too long. I actually put it down at about 60 pages in and thought about quitting, partly because I was so annoyed at Sira for taking up with a man who was obviously just going to use her and leave her. I'm glad I kept going though; it really is a good book. A lot of the details are necessary; for example, how does Sira manage to move in high society when she is of such humble origins? We go with her on her journey as she learns of people and history, and no doubt learn something ourselves.
I didn't realize till I'd finished it that several of the characters in the book were real people. Sira's dear friend, Rosalind Fox, even had a book out. According to Amazon, it's no longer in print. I'm dying to read it. She's an interesting character—another one who always manages to forge her way forward no matter the circumstances.
This book would be perfect for the holidays—it's long enough that it will last you through one of those interminable airport layovers, or keep your interest during a long afternoon at the in-laws. It would also make a great gift—for example, my mother-in-law would love it.

Elizabeth recognizes that no current time can ever have the glamor of the past; however, she can't help thinking that we live in an unusually prosaic era. Read more at her blog Planet Nomad.