The holidays are fast approaching, and about this time every year, I love to pull our always-growing collection of winter and holiday-themed books off the shelf in my daughter's room. For the next month or so, they will inhabit various baskets in our living room, always at the ready for a reading by the fire or under the twinkle of our Christmas tree lights. This year, we've added a few new books to the mix, and these two will be taking their first trip to the special baskets.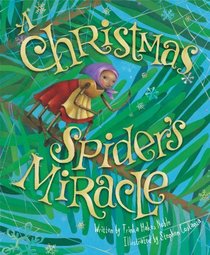 The cover of this book interested me with its cute image, and I was surprised to find a more sophisticated holiday story within its pages. Having no previous knowledge of the Ukrainian folktale that inspired Trinka Hakes Noble's A Christmas Spider's Miracle, I was touched by the emotional tale upon my first reading. The plight of a poor mother, saddened by her inability to provide even some modest decorations for the small fir tree she has cut down from the forest for her children's Christmas, intersects with that of a spider mother, worried over her spiderlings' health on the coldest of nights. When she finds herself warming up, she realizes that she is no longer outdoors, but has been brought inside a house. The spider mother feels a kinship with the family she observes, and she gives an array of dazzling gifts of silky decorations on the tree that are appreciated in the morning by the mother and her children. According to the story, it is considered good luck to see a spider on Christmas morning, and the image of a spider ornament hanging on the tree may just inspire my own family to add to our ornament collection this year!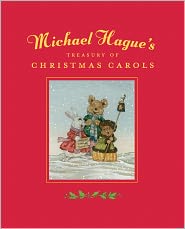 What better than some red velvet and an image of adorable singing animals on the cover of a children's song book? Michael Hague's Treasury of Christmas Carols features the lyrics to four beloved Christmas songs accompanied by wintry illustrations of animals decked out in their holiday finest. Jingle Bells, Deck the Halls, O Christmas Tree, and We Wish You a Merry Christmas are included, which are arguably some of kids' favorites! My kindergarten-aged daughter is still learning to read words on her own, but this book gives her confidence since she's already familiar with the songs. I love that my children will pick it up and just start singing, which is one of my favorite aspects of this entire season. And did I mention the red velvet cover? Yes, that is a favorite feature for all of us!
**********************************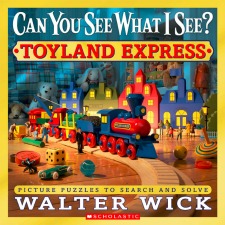 Head over to 5 Minutes for Mom to read my review of Walter Wick's Can You See What I See?: Toyland Express, another new picture book that would make a perfect holiday gift this season. Search for items among busy scenes that depict a toy train's life span from creation in the workshop to becoming a beloved plaything more than once. Enter to win a copy, along with FIVE additional Can You See What I See? titles, on the 5 Minutes for Mom review post.
Dawn is gearing up for the holidays by pulling out the decorations and the holiday books, and rejoicing in the winter break from teaching preschool that will allow her to catch up on her own personal reading, as well as blogging at my thoughts exactly.