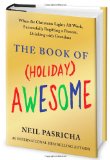 I reviewed Neil Pasricha's The Book of Awesome when it came out a year and a half ago. It really cracked me up, and most of his musings were just, well — awesome!
When I found out that there was a new book: The Book of (Holiday) Awesome: When the Christmas Lights All Work, Successfully Regifting a Present, Drinking with Grandma — I gladly agreed to a review and a giveaway.
The gold cover is festive, and the thoughts inside are more of the same, but with a holiday theme. And we're not just talking Christmas, either. The book does start with Christmas, but other December holidays like Kwanzaa and Hanukkah are represented as well. Then Pasricha moves chronologically through the year from New Year's Eve to Valentine's Day, remembering even little St. Patrick's Day, then Easter, summer holidays, and Halloween and Thanksgiving.
At first I wasn't as wowed by this book as the first, and I think that part of it was that I was used to the awesome — I expected it. But I wonder if there are some better essays buried deeper in. The one about playing board games really cracked me up, and I loved the memories his essays on the Kids' Table and Halloween costumes stirred.
I recommend that you buy a couple of copies of The Book of (Holiday) Awesome and keep them on-hand for hostess gifts, or put one in your "thinking room" to spruce it up for the holidays. Some of the essays are very short and could easily be finished during a quick trip.

You can leave a comment now to enter to win one. We'll announce the winner on December 7. Just for fun, tell me what you are most looking forward to eating this Thanksgiving or Christmas.The giveaway has closed.
Check out our current giveaways. Subscribe to our feed. Follow us @5M4B on Twitter.

Jennifer Donovan looks forward to eating dressing each year, as well as her twice-yearly taste of pecan pie. She blogs at Snapshot.