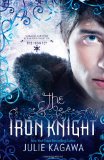 My 13-year-old daughter and I have been enjoying Julie Kagawa's Iron Fey series since we first were exposed to The Iron King last summer. Please check out my review of that book for an indication of the inventive and adventure-filled world that Julie Kagawa has created.
The Iron Knight is the 4th installment in the series (I also reviewed Iron Queen if you'd like to see where things are coming from in that 3rd book). This book has a different feel, because it's Ash's story and is told in his point of view instead of Megan's. There are also some flashbacks that better explain Ash's and Puck's history.
I love that Julie Kagawa and Harlequin Teen have put out four books in this series in under 2 years. That's long enough to create some suspense and anticipation and help build an audience, but not so long that the fans get restless. My daughter and I have both really enjoyed this series, which includes romance, suspense, battles, humor, a quest, and more.
I have to admit that I haven't finished reading this one, BUT I can confidently recommend the series. I actually think that boys would enjoy it too (especially on an ereader where no one will see the girly colored covers). It reminds me a lot of Lord of the Rings thematically (with more romance and teen angst).
I am happy to be able to give away a copy to one of you. Just leave a comment if you'd like to win, and we'll randomly select the winner and announce it here on 11/23. The Giveaway is Closed.
Don't miss a thing: Check out our current giveaways. Subscribe to our feed or video reviews on YouTube. Follow us @5M4B on Twitter or on Facebook.
Jennifer Donovan doesn't remember reading a lot of YA when she was a young teen, but she sure enjoys it now. She blogs at Snapshot.