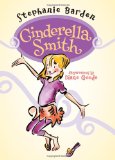 I received Cinderella Smith last summer in one of those delightful unsolicited book shipments. However, not having a young girly reader in the house and being busy with other books, I never got around to it, until it was nominated in the Cybils category which I am judging. I'm so glad that this book was pushed to the top of my pile.
From the first chapter, the heroine that Stephanie Barden has created, Cinderella Smith, charmed me. Her voice was cute and confident, yet not disrespectfully sassy. From the beginning, the reader (at least this reader) wonders why she's called Cinderella. In the first chapter, she clarifies the reasons that she is not called Cinderella:
"And in case you were wondering if she was a mean and bossy stepmom and that's how I got my name, the answer is no. She's just a regular kind of mom who is usually nice but kind of strict" (page 2).
"And by the way, Tess is a nice little sister and not a mean step one, so that's not how I got my name either" (page 6).
"Keeping track of the library books is one of my chores, but I don't have a billion like the other Cinderella" (page 6).
However, she does have a habit of losing shoes, or rather — a single shoe — hence the nickname she has earned. Though she keeps losing shoes, they often come back to her. She has learned from her mistakes and now labels all of her shoes with her name and address.
There are other cute things that evoke the popular fairy tale, like having a friend named Prince, but this is definitely not a book that will only appeal to princessy girls. If you are concerned about the "evil step-" theme, Cinderella actually gets to help the new girl adjust to her mom's new marriage and potentially wicked stepsisters (who turn out to be really awesome).
Cinderella Smith is a delightful book that I can highly recommend to fans of Clementine and Ramona and the like. In spite of the purple cover, I was even able to encourage my 2nd grade son to read it, which I mentioned in my own Kids' Picks post today. He hasn't finished it, but the first few chapters drew him in just like they did me.
Though I am a Round I panelist in this Middle Grade fiction category for the Cybils, my opinions are solely my own and are not meant to reflect the final outcome of our panel deliberations.
Don't miss a thing: Check out our current giveaways. Subscribe to our feed or video reviews on YouTube. Follow us @5M4B on Twitter or on Facebook.

Though it's a challenge, Jennifer Donovan can't imagine one more fun than reading as many of the nominees as she can in this 2 1/2 month timeframe. That's one reason she doesn't blog at Snapshot so much anymore.