Thanksgiving weekend is the beginning of the big end-of-year push of movies, which are timed to coincide with times when people have more time off (and maybe more incentive to get out of the house and away from relatives — not me of course, but I'm just sayin').
Okay–this isn't a book at all. However, I think it's going to be a big holiday favorite. My family got to see an early screening Monday night, and it was a huge hit with all of us! When I interviewed Jason Segel for the Despicable Me press junket, he mentioned that he was writing this, and he was trying to go pretty old school traditional with it.
It's rated PG, but it's a very mild PG. There was no language that I recall and no innuendo. My 7-year-old son and my 13-year-old daughter each LOVED it. My husband and I laughed a lot too. There were a lot of nods to the 80's that the adults got that the kids didn't.
I was particularly curious about how Kyle responded to the musical numbers, such as these, but he liked them (which surprised me, honestly), because I'd have thought the irony would sort of go over his head.
Check out Christie O's thoughts over at 5 Minutes for Mom as well.
Hugo — November 23
I just saw a preview for this last week, and I got chills. I'm not sure how close it is to the book The Invention of Hugo Cabret by Brian Selznick — maybe it's more detailed in the spirit of the book? The book is awfully exciting, and the film does look like a great adventure. That eye in the keyhole at about 1:51 is directly from the book and gives me chills when I see it. I would love to take the kids to see this over the weekend.
I didn't know much about this until I saw it on the Tony's. Apparently it's a children's book (I actually thought it was a YA book, but it says ages 8 and up) by Michael Morpurgo which was first adapted for the stage, and now the Steven Spielberg movie adaptation is out Christmas Day. It looks pretty incredible. If nothing else, really cinematic — those images! That soundtrack! I'd like to drag my family to this one. After watching the preview, I just want to click through and watch it again:

Are there any other movies that are coming out this holiday season that you are waiting for (book adaptations or not?). Do you plan to see any movies this weekend with your family? Tell us what you think if you have seen them!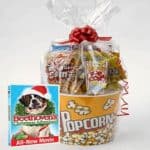 Speaking of Family Movies — Check out my Family Movie Night giveaway featuring 5 Christmas films from Universal, including Beethoven's Christmas Adventure over at 5 Minutes for Mom.

Jennifer Donovan enjoys watching movie, but doesn't watch as many as she'd like. She blogs about life with her family — a 13 year old daughter and a 7 year old son — at Snapshot.