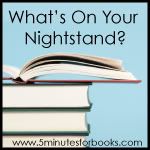 We aren't traveling this year at Thanksgiving, which bums me out to the extent that I won't be riding in a car for a long time which nets me lots more precious reading hours. However, I am looking forward to being at home, which should net me some lazy hours at home with a book.
I have been so immersed with my Cybils Middle Grade Fiction reading that I don't even have time to think about what's on my Nightstand. I'm heading to the library to pick up books a couple of times a week (even though I'm not even making a dent in the pile), and now some review copies have starting rolling in. So many books, so little time!
That's pretty much what December will be all about as well, but after that, I might just take a big break from review reading — oh, who am I kidding? I'll jump back in with both feet.
The whole team is thankful to all of you booklovers!!
Check out our current giveaways. Subscribe to our feed. Follow us @5M4B on Twitter or on Facebook or YouTube.