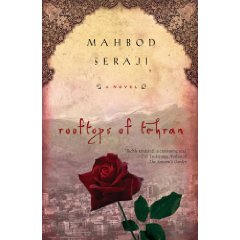 If you haven't picked up Rooftops of Tehran by Mahbod Seraji yet, you still have time! Read it and then link up your own thoughts to our bookclub post on Tuesday October 6.
Want to know more about it? Read my review, and the author's guest post On Reading.
If you have read it (or are in progress), I hope you are enjoying it. When you write your bookclub post (or join us in the comments if you are not a blogger), you can use one or all of these questions to guide you, or you can simply post your own review.
The end of the book also includes some discussion questions, and you are free to use these as well.
If you are a member of a bookclub, feel free to use these questions as a springboard for your own discussion.
The story is told with some mysterious flashbacks. What affect did this have on you? Did it pique your curiosity? Confuse you? Intrigue you?
A heavy theme of the novel is friendship. What friendships make an impact on you? Do they seem similar to our own contemporary American relationships, or different?
I felt like this was generally an uplifting story, though set amidst some trying circumstances. Did you agree? If so, how did the author achieve this?
How do characters in the book perceive the United States? How did the way that they see the U.S. change the way you see it?
Did reading this book give you a greater understanding of Iranian culture or politics? Did you read (or have you read) any of the suggested works that are listed in the back of the book? How do they compare and contrast with this portrayal of Iran? What does the fact that the author included a list of suggested readings, and the other personal information that he includes after the novel ends say about his purpose in writing it?
If you've read the book and it brought a question to your mind, leave it in the comments, and maybe some people will address it.
Join us on Tuesday October 6 right here to discuss this beautiful book.
Join us on November 3 as we discuss one of Louisa May Alcott's books (your choice!). We're taking the busy holiday months of December and January off from Bookclub.

Find out about all of our Tuesday events at our Join In page.
Managing Editor Jennifer Donovan loves books with an interesting cultural setting. Read about her life in Connecticut (interesting to a transplanted Texan, at least!) at her blog Snapshot.