While we often tell kids not to judge a book by the cover, we all do, don't we? I also judge a book by its spine. When I see one of those thin spines, barely pushing an inch, probably less than 180 pages, I automatically assume it's strictly kid stuff. Boy, have I been proven wrong. Each of these books is less than 200 pages, but is rich in content (Vegetarians and animal activists, you can keep reading. That's as "meaty" as it gets).
Bookworms might discount these titles as too young because of their length, as my daughter and I would have, but the emotional depth and plot elevates them to books worthy of their consideration. Kids who think reading is just okay generally gravitate towards thinner books, no matter their age, so these are all great stories that come in a smaller package. They were all nominated in the Middle Grade category of Cybils, for which I am a round one panelist. These opinions are my own and are in no way indicative of the final outcome.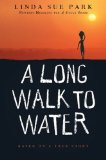 Linda Sue Park's A Long Walk to Water: Based on a True Story (128 pages) is definitely not kid stuff. I would recommend this emotional tale to kids 10 or 11 and up. It could (and hopefully will) be enjoyed by kids well into middle school and beyond. I loved this story that follows two characters, Nya and Salva. Nya lives in a small village in the Sudan, and has to walk a long way to get water two times each day. At certain times of the year when that pond dries up, her family even has to move so that they'll will be closer to a better source of water, which dries up each year as well. Because of this lack of clean water, she spends her days walking, her younger siblings get sick, and more. It's something that kids today absolutely take for granted, but her story is presented in an age-appropriate way that might open their eyes to how the other half of the world lives.
Salva has to leave his village when war hits it. He becomes one of the Sudanese Lost Boys. Dawn covered his story quite well in her review of A Long Walk to Water, posted here last year, so please check it out.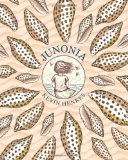 Junonia (180 pages) is a chapter book written by picture-book great Kevin Henkes, and sort of reads like a very extended version of one of those quiet observational picture books. The New York Times review quoted on the amazon editorial page sums it up well: "Henkes knows that Alice, like many girls her age, carries plenty of things in her mind—and her heart—that she seldom speaks of. She mulls them over privately, and in Henkes's hands, eloquently."
Alice and her family spend time at the beach every year on her birthday, but this year is different. Her favorite "aunt" who is always there alone has brought her boyfriend and his 6-year-old daughter Mallory. Alice is disappointed that she isn't going to be able to spend time with her, or another favorite resident Helen, who is snowed in. Turning 10 is supposed to be something special, and it's not turning out to be what she hoped. If she could just find a perfect junonia shell for her collection, that might make up for it. . . .
This story is beautiful and has a lot of emotional intensity. I loved seeing Alice's change from being mostly self-centered to considering Mallory's needs. I also loved the beautiful portrayal of the love her friends and family have for her. I think that this story would be best enjoyed by a girl 9 and up, who enjoys a good character-driven story, or one who loves seashells, but because of the quiet depth of the story, I'm not sure it would be an easy sell for all audiences.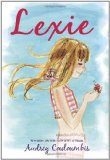 Lexie by Audrey Couloumbis (192 pages) also tells of a girl's week at the beach that is different from those that have come before. Ten-year-old (almost 11!) Lexie is looking forward to doing the same things she does every summer, like beachcombing, swimming, and eating hamburgers, but this year it's only going to be her and her dad. Since her parents separated last summer, her mom isn't coming. And when Lexie gets there, she finds out that it's not going to be just her and her dad, because he's invited Vicky and her sons, Ben, 14, and 3-year-old Harris. The author portrays the father in a way that sort of irritated me (at him, not the author). How could he be so insensitive as to spring that on Lexie that way? Other surprises follow that reinforce this feeling.
Divorce and dating is a common topic in kidlit, since it's a common occurrence in kids' lives. Here we experience the affects that it has on Ben and Lexie. They talk about it a little bit, but mostly we just see the outward differences. Seeing Lexie settle in to the idea of change reminded me how resilient our kids really are. This book is not quite as internal as Junonia — there's more plot and action (such as freeing a beached sand shark) — and so I think it would appeal to kids 9 and up.
Jennifer likes short books more than she used to. When she was younger she worried about running out of pages to read, but now that she's a reviewer, she's never in danger of that. She blogs at Snapshot.