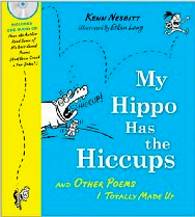 I've stated before how I'm not a really big fan of poetry unless it has something to do with Anne of Green Gables. But then I have my childhood favorites, such as The New Kid on the Block with its infamous poem about home work. I liked that one growing up. A lot.
In keeping with that tone, I give you My Hippo Has the Hiccups (and Other Poems I Totally Made Up)
. Filled with silly, ridiculous rhymes about every day life, it sure to delight the very young (and very young at heart!) My favorite poem in the book was one I can identify with all too well and all too frequently: "I'm Absolutely Full Tonight."
I couldn't eat another bite.
I couldn't eat half a bean
or even taste a tangerine.
I couldn't lick a lettuce leaf
or bite the slightest bit of beef.
Of course, the subject of this poem ends up only being too full "unless, of course, you've got dessert." What kid couldn't sympathize with this poor person's plight!?
I would say that these poems would appeal to the kid who has a great sense of humor and thinks "life is just so hard." They'll get a kick out of a rhyme that has the kid being 'ordered about' or generally doing things that they don't want to do but "HAVE TO." It is also full of fun little ditties, such as "Learning How to Juggle."
"You'll be spellbound and astonished
as I sling and try to snatch,
for I'm excellent at throwing.
(I just haven't learned to catch.)"
These and other fine poems by Kenn Nesbitt are all contained here in this one simple book. There is also a CD recording included of the author reading some of his favorites. As a way to introduce children to poetry, this is a way to produce some laughs and draw them in. Not exactly my style (anymore) but something that would have appealed to me before I was old, boring and stodgy. If you desire that your child enjoy a good laugh over some silly rhymes, this is an option.
Carrie comes by her book obsession honestly, having descended from a long line of bibliophiles. She blogs about books regularly at Reading to Know.