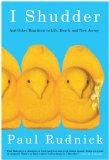 There's really no other way to start this review than to say that if you are already a fan of humorous memoirs, a la David Sedaris, then you will want to get your hands on a copy of Paul Rudnick's new book, I Shudder: And Other Reactions to Life, Death, and New Jersey. The pages between the baby blue covers, adorned with two and a half of Rudnick's beloved yellow chick peeps (whose significance is explained in chapter seven, by far my favorite!) left me clutching my side with laughter and insisting upon reading passages to whomever would indulge me by listening.
With a long-established career as a humorist, writing screenplays and contributing features to Premiere magazine and The New Yorker among his credits, Rudnick now travels down that path of memoirist, creating a book that offers the insight of one New Jersey-born, New York City resident who has had more than a few bizarre and hilarious experiences in the entertainment business. Rudnick peppers the book with tales from his own childhood and descriptions of his family members that bring them vividly to life, in all their kvetching glory. When he shares his food issues in that previously mentioned chapter seven, I swear I thought I was going to injure myself from laughter. While I would love to share any one of my most favorite passages, I believe the off-color humor may be a bit past our G-rating here! Each chapter opens at one particular point, and throughout the ensuing paragraphs it drives off in several different directions, sometimes circling back, other times moving on to a seemingly unrelated point. The beauty comes at the end of the chapter when you realize that you've made it back to the original focus, and the ride was glorious, if not just a little bizarre.
For fans of biting, raucous and irreverent humor, along with witty insight and a bit of show business flair, Paul Rudnick delivers a new memoir to satisfy your entertainment wishes with I Shudder: And Other Reactions to Life, Death, and New Jersey.
Dawn has shelves full of David Sedaris and Augusten Burroughs memoirs as well. She wishes she could exhibit even a fraction of their humor in her own writing on her blog, my thoughts exactly.