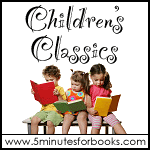 Like that certain office supply store's commercial sings to us lately, "It's the most wonderful time of the year!" Yes, we're talking back to school time! While our school calendar kicked off two weeks ago here in Maryland, I'm thinking it's still pretty standard for other schools around the country to be starting sessions today, so welcome back everyone!
When it comes to children's literature, the back to school theme is a fairly well addressed one, although it seems that my brain is focused on books aimed at the younger set– the preschoolers and early elementary kids who may be in need of a little encouragement or support during this transition time. You've got pretty much every single popular children's television character working overtime in the pages of books these days, and they are all more than willing to help your young child ease into the school routine. I'm sort of a snob about tv-masquerading-as-literature as it is, but I don't think those fit the Classics bill anyway. So, what are some classic back to school books?
I can think of plenty, and I do mean PLENTY, more recently published books on this theme. Back before I began my sterling career as a stay-at-home mom, I was first a preschool teacher, so this time of year meant lots of prep work, with my favorite being to stock the classroom library. Of course, we had some of the best around, David Goes to School, Mouse's First Day of School, and Miss Bindergarten Gets Ready for Kindergarten. My very favorite, which unfortunately is not nearly as well-known as it should be, is the absolutely delightful, Matthew ABC. But again, can I call those Classics?
Clearly, I'm having difficulty with this, so I offer you up one title that perhaps has a questionable Classics status, but I'm pretty darn sure that if you have a kid in the preschool set (or one who has had the audacity to grow out of that age bracket within the last 7 years or so), you're going to be familiar with this title.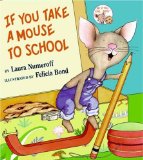 If You Take a Mouse to School, by Laura Numeroff, brings back the adorable Mouse of the cookie fame, retaining the circular nature of Numeroff's many books and introducing kids to the wonders of a classroom environment and routine– reading! science experiments! block building! While it may not be all that old, I'm going to go ahead and give it the Classics honor today.
What do you think? Is your pick a bit more traditionally classic than mine? Please link up your own Children's Classics post with us below, or feel free just to be chatty in our comments section. Welcome back to school!
Join us each Tuesday. Except for Nightstand, which will still follow our alternating-time post schedule, we will be posting all of these at 7:00am Eastern time.

September 15 (3rd Tuesday): Kids' Picks
September 22 (4th Tuesday): What's on Your Nightstand?
September 29 (5th Tuesday): I Read It!
October 6 (1st Tuesday): Bookclub — Rooftops of Tehran by Mahbod Seraji

Mark your calendar with upcoming Children's Classics topics:

October 13 — Re-read a childhood favorite
November 10 — Celebrate the holidays
December 8 — Children's books you love to give
Now that Dawn has 1/3 of her children back in school, naptimes can once again be blogging time, over at my thoughts exactly.