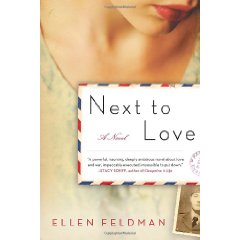 Spanning 1944 – 1964, Next to Love: A Novel takes a look at the lives of 3 women in a small town in Massachusetts, friends since Kindergarten, and bound together and pulled apart by a war that changed them all.
If you enjoyed The Help (linked to my review, check it out!), I encourage you to check out this novel, dealing with some of the same issues of bigotry, prejudice, sexism, love, loss and friendship.
Next to Love starts with innocent young brides sending their husbands off to war. War-time babies are born to some, homes are made, but the women wait. Some of the young men come home and some do not. Even those who do return suffer and have to fight to survive. Things have changed. They have all grown up and have to deal with the after-effects of the war.
Years pass and time does heal the wounds, but since we see those childless fathers grow up in the 20 years that the novel covers, we see the results of the ghosts of those men, and the shadows left in the homes and hearts of widows and parents and friends.
The story is told in the 3rd person, but the chapters alternate telling the story of these women and their children and their husbands, so sometimes the same scene is covered in more than one POV, underscoring the fact that everyone's reality is different. I didn't feel as if I completely got into the heads of any of these women. It seems that the story is more about what war does — the theme — than the people, if that makes sense.
It's not a depressing novel, because all of us are affected by something. This generation was affected by war, and Ellen Feldman portrays the lives of these 3 women and those who know and love them in a beautiful poignant way.
Highly recommended.
Jennifer Donovan reads, writes, and reviews (and occasionally rants). She blogs at Snapshot.