Back to school time is upon us once again, and for many older children, this brings homework back into their lives after a summer lull. For families such as mine, with a significant enough age gap between kids that leaves one child doing homework while the younger one(s) look on longingly, workbooks sometimes come in handy as a special activity for a younger child to do while the older sibling works nearby. Mother Goose Programs has a new series of workbooks geared toward preschoolers and kindergarteners with six What's the Big Idea? titles.
The math and science concepts covered are: patterns, counting (zero and 1-12), shapes (squares and triangles), measuring, maps and sorting, all important building block concepts to be learned in the early childhood years. The activities in the workbooks include both coloring and drawing on the pages, as well as working with cards to be printed out from the CD that comes with each book.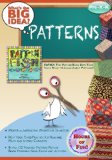 The best thing about these workbooks in my opinion, and what makes them stand out from the rest of the crowd, is the literature connection each workbook provides, for also on the CD is a full copy of a picture book that relates to the concept presented. For example, in the Patterns: What's the Big Idea? workbook, the picture book included on the CD is the wonderful Pattern Fish by Trudy Harris, a fun and colorful book that introduces the concept of recognizing patterns. The big idea (couldn't resist) behind these workbooks is that parents and young children sit together and read the picture books first, then children can practice with the concepts presented through the workbook's activities. If looking at the picture book on a computer together isn't feasible, parents could also check the books out from their local library. I opted to do this, and my younger children have frequently chosen to look at the books on their own since we first read them together, reinforcing the concepts even more!
In complete honesty, I'm not the biggest advocate for straightforward paper and pencil activities for preschoolers and kindergartners. As an early childhood educator, I advocate for hands-on activities and experiences for young children, working with materials that can be manipulated and explored as their primary way of learning. That being said, I know that there are situations in which some young children crave workbook-type activities, especially in the older sibling scenario I described earlier. The What's the Big Idea? series impresses me with the literary connections and the more interactive component of using printed cards to create one's own patterns, etc. I feel confident that these activities will appeal to some young children, and I encourage parents to take a look at the series as an option for supplemental exposure to some basic math and science concepts.
We have two complete sets of 6 workbooks to give away! Leave a comment here if you'd like to win (U.S. and Canada addresses only, please), and we'll announce the winners on September 14.
Check out our current giveaways. Subscribe to our feed. Follow us @5M4B on Twitter or on Facebook.
Preschool teacher Dawn keeps busy with her students, her own children, loads of books, and blogging at my thoughts exactly.