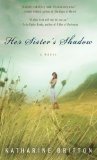 When Lilli Niles left her childhood home and older sister behind, she meant it to be forever. 40 years later, when a phone call from her sister Bea announces the sudden death of her husband and she asks Lilli to return for the service, Lilli agrees with a lot of trepidation. In the intervening time, she's established herself as a successful artist and now lives in London. On her return, she is shocked at the changes and neglect she sees in her beloved childhood home, and the deterioration of her sister. The two settle almost instantly into familiar patterns of relating to each other, with plenty of suspicion on Lilli's part at least. She plans to leave again immediately, but instead finds herself staying for a few days.
Her Sister's Shadow
deals with family relationships and betrayals, and the choking weight of memories and blame. It moves back and forth between the present time and the events of the past that caused the rift. In the end, secrets are brought to light and forgiveness is possible.
Lilli grew up in White Head, Massachusetts, with 3 sisters and a widowed mother who is lost to her art and who is obviously still in the grip of a terrible grief after the death of their father. Bea, 9 years older than Lilli, is the mother to her younger sisters, carrying the weight of responsibility and, of course, the inevitable bossiness and resentment that comes with such a role. Charlotte is steady and competent, destined to become a brilliant neonatalogist. Lilli is tall and artistic, and at 15 is dealing with a rapidly changing body and the sometimes-painful progression from child to adult. And Dori, just turned 13, is very much a child but bright, cheerful and kind, with a wisdom beyond her years. Author Katharine Britton does a brilliant job at capturing the moments of childhood and teenaged summers, the passions and conflicting feelings and all. She is a master of description, portraying effortlessly both people and places, times and emotions.
Lilli at 15 had a huge crush on Randall Marsh, a young man who acted as brother to the 4 sisters, who came every summer to hang the hammock and take the girls sailing. But before we learn this, we already know that he's the brother-in-law whose funeral causes Lilli to return at last to her childhood home, and that Lilli lives alone. We watch events unfold, knowing already at least part of the end but not the whole. As the adult Lilli revisits old scenes and memories, she is forced to confront the fact that her own understanding may not have been as complete as she has thought.
Terrible things happen in this novel…deaths and betrayals and suicides. But the message of the book is that family can withstand even great tragedy, if they are willing to talk about it. Running away is not the answer. Although it is clear that Lilli has always felt herself to be in Bea's shadow, in the end the reader wonders which sister is referred to in the title. Her Sister's Shadow
is a masterful look at how events and one's reaction to them can shape a life.
I'm pleased to announce that one of you can receive your own copy of Her Sister's Shadow. Leave a comment below to win. Giveaway is open until August 31.
>
This giveaway is now closed.
The winner of The Help movie gift pack is #11 Georgia.
The winner of Your Child's Writing Life is #10
Check out our current giveaways. Subscribe to our feed or video reviews on YouTube. Follow us @5M4B on Twitter or on Facebook.
Elizabeth may not have sisters, but her two brothers gave her plenty of insight into the world of sibling rivalry. Read more at her blog Planet Nomad.