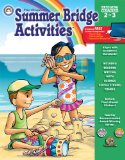 You might think that the end of summer is way too late. Not so. Read on for a fun new product that you can use year-round. Aside from that, have any of your high-performing kids ever been frustrated at the amount of review that goes on at the beginning of the year? It seems like they are "getting back in gear" for months! You could use these workbooks as enrichment through the beginning of the year as well.
My son Kyle actually likes doing workbooks. Weird, huh? I'm not saying he pops out of bed each morning joyfully anticipating a few hours (or minutes, to be honest) of filling in the blanks and circling math sums, but he really does enjoy them, both when they are homework from school and when I'm providing "enrichment" for him.
We received a workbook from Carson-Dellosa Summer Bridge Activities: Bridging Grades Second to Third that he's been doing off and on since we got it. He's actually entering 2nd grade, but he reads at a much higher level, and he likes math, so the sheets we've done have been a good level for him. We can always skip ones that don't apply and come back to them later.
For whatever reason, this brand of these types of workbooks is motivational for my kids. Kyle likes being able to put a sticker on each page. Even when Amanda was older and doing 5th to 6th, she was somewhat motivated to stick with it (somewhat).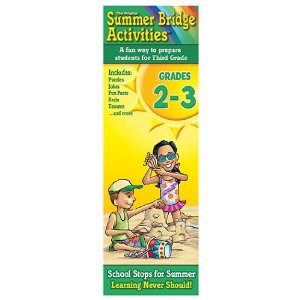 New (to me at least) are the Summer Bridge Activity Sets. Each box comes with 2 sets of cards. They are long and thin, easy to hold, and secured in the corner with a plastic brad. There are different categories with math, jokes, fun facts and more. The set is supposed to be for 2nd and 3rd graders, but some of the tasks seem quite easy. For example, a math card asks the child to identify the even numbers. We brought these along and they were a great car activity on our recent trip. Kyle enjoyed sharing the jokes and riddles and quizzing us and his 12-year-old sister (who actually enjoyed them too). A Word Play section reinforces language arts in a fun way. The puzzlers section offers several "spot the difference" type activities.
I would definitely buy more of these sets for quiet and educational fun on the go.
Jennifer Donovan and her family have survived several major road trips each summer, driving more than 2500 miles. Products like these make summer fun. She blogs at Snapshot.