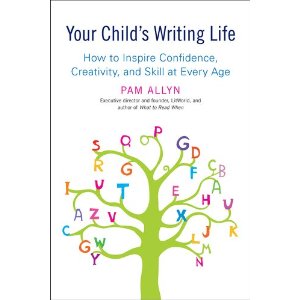 The title of Pam Allyn's book says it all: Your Child's Writing Life: How to Inspire Confidence, Creativity, and Skill at Every Age. As parents, don't we all want confident, creative, and skilled children? Pam Allyn explains the benefits in school and "real life" that results when they have developed writing skills.
I recently reviewed Pam Allyn's book Best Books for Boys. In reading it, her love for students and her desire to help them experience success in learning was evident. With that in mind, I couldn't wait to read Your Child's Writing Life, which is written for parents (unlike the former which was helpful to me as a parent, but directed mostly at educators).
I feel almost weepy with joy at her words from a parent and educator who loves children that go right through to a parent's heart. I'll let her words beginning the section on the 7-year-old writer speak for themselves (since they rang so true to me, as the mother of a sweet 7-year-old boy):
Seven-year-olds are a poignant reminder to us grown-ups of the fleeting nature of time. They are standing between early childhood and something else: an awareness of mortality and the lines between what is real and what is not seem sometimes blurred.

Their teeth are wiggling and falling out one after the next. They even look a little funny, with their legs and arms and bodies all growing at different rates.
In this chapter Allyn outlines the developmental stage in the writing life of a child, from age 2 up to 12. She recommends activities to kindle the love of writing and specific books that will inspire them.
This is so much more than a how-to manual encouraging that desire that we parents seem to have to breed the best and the brightest. Instead of some sort of twisted recipe pushing early achievement, this really reads like a parenting manual. In fact, when she introduces the idea of a writing notebook, she encourages a parent to do the exercises/prompts alongside their child. I love this! What a way to connect.
Check out how this book has inspired me at a related post on my blog today.
We don't think twice about making crayons and paper available and encouraging our preschoolers to use them to create, and it's in this vein that Allyn informs and encourages us to incorporate writing into their developmental lives. Just as reading is important (and she stresses again and again that the best writers are readers too), writing is something we should be encouraging in a fun creative way.
I can't say enough good things about Your Child's Writing Life. Honestly, I could go on for pages about all the redeeming qualities (including "The Writing Doctor is in the House" which offers support as we are trying to support our children during times of homework stress and frustration). I am so happy to be able to give away a copy to one of you.
Leave a comment if you'd like to enter to win, and we'll announce the winner right here on August 17.The giveaway is closed.
We have a couple of lucky winners to announce:
Check out our current giveaways. Subscribe to our feed or video reviews on YouTube. Follow us @5M4B on Twitter or on Facebook.

Jennifer remembers her own young writing life, including attempts in elementary school to write the next great (middle grade) American novel. She uses her blog Snapshot as her writing outlet now.