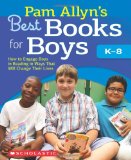 Don't you just love that there's a book called Best Books for Boys: How to Engage Boys in Reading in Ways That Will Change Their Lives. Just reading Pam Allyn's title and subtitle inspires and encourages me.
Pam Allyn has spent years encouraging kids to read. In her writing, we can hear a special heart for the struggles that boys face, especially as they get older. She responds not with sympathy, but with a "make-it-happen" attitude that teachers and parents can benefit from. She outlines the obstacles that cause boys to perceive reading as a chore, and then gives plenty of solutions: Ritual, Environment, Access, Dialogue (READ).
Best Books for Boys: How to Engage Boys in Reading in Ways That Will Change Their Lives is written specifically for teachers, instructing them to set up their classroom libraries and reading settings in ways that will appeal to boys, but the information proved equally valuable to me as a parent. For example, she shared the ideal mix for a classroom library, and I immediately thought of the books I buy, shelve, and check out for my kids. Her ideal mix that will be attractive to all sorts of readers is at least 40% novels, 30% poetry, and 30% non-fiction. We might be a little bit low on the poetry (maybe not if you count rhyming picture books), but I was happy to be able to identify a variety in my home.
After a few chapters in which Allyn shares statistics proving that boys are struggling with reading and school, offering suggestions for improvement, and a hearty dose of encouragement and inspiration, the lists begin. Allyn offers suggestions grouped first by topic, then by reading level (for emerging, developing, and maturing readers). She includes many genres: Action and Adventure, Biographies and Memoirs, Expeditions, Fantasy, Humor, and Mystery, just to name a few.
What I liked about these book lists is that they are mostly populated with current, popular books. That means that a parent or teacher can easily find them in a bookstore or library and since I've seen my own bookworm of a daughter turn her nose up at an "old" or "boring" cover, I think it also insures that they'll look interesting and thus earn a second look.
I was pleased to be able to mine a little more of Pam Allyn's expertise with an exclusive Q&A:
How did you decide on the titles recommended in the book?

I listened to the boys! I have the pleasure of working with many boys of all ages in my role as a literacy educator and advocate. The boys tell me what they love the most. I also work closely with teaches and librarians and they too have shared their favorites with me. Best of all, I get to read all these books and peruse them. These titles were compelling to me. Of course there are so many more, so forgive me if your favorite is not there! Please come to my website PamAllyn.com and let me know what your favorites are.

Given the different preferences that individuals have, do you see a common thread in books that seem to be sure-fire hits?

Hmmm. I see a great variety in what boys love, but I think children are very sensitive to good writing. They are discerning. You can't fool them with a great cover and a bad book. They also know when a writer is condescending to children. They seem to gravitate to books where the main character, a child or teen, is rich with complexity and faces challenges with courage.

Some of us moms have great memories of being young booklovers who also loved to write, but we don't see this in our sons as much, even if they do like books. Is there a connection between reading and creative writing, and is it stronger in girls?

We do tend to encourage girls as writers more often. It seems almost like it is considered a more feminine activity.

There is a strong connection between reading and writing. I always say reading is like breathing in and writing is like breathing out. A recent study showed that even a small amount of writing in response to reading helps build reading comprehension.

Is there a typical age that reading interest tends to drop off in boys? What are some ways we can continue to encourage our boys who do enjoy books not to let the interest wane?

Middle school teachers and parents report a steep drop in boys' reading interests upon entering middle school. That transitional period can be very stressful for boys. The pressure in school mounts for them as the reading levels jump to a far more difficult level. It's a crucial time to keep our eyes on the long term prize and make sure we keep reading fun for boys. Let them read what they love. Don't let them forget why reading feels so good.

I so appreciate this book, and I appreciate that Pam Allyn took some time to answer my questions, but we are a community of moms and grandmas here, and I would love to hear what worked for you, too.
How have you encouraged your boys in particular to read?
Jennifer Donovan is the mother of two. A 12-year-old daughter who has finished half of middle school and is still reading (hooray!), and a 7-year-old son who learned to read by osmosis when he was 4, but does see other activities as more fun than reading. She blogs about their lives in the pages and out, at Snapshot.