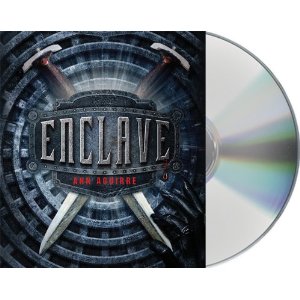 When the audiobook Enclave by Ann Aguirre arrived in my mailbox, I thought, "More dystopian lit," but it was more like "Dystopian lit! Bring it on!" My 12-year-old Amanda and I both enjoy these types of novels. I think that one reason adults as well as young people are drawn to this type of story in almost equal numbers (Can you say "Hunger Games"?) is because they are pure fantasy — or at least fantasy for now that might actually tap into our fears of becoming reality.
I also find them to be a bit timeless, because we can read about teens in a story that is free of texting and disrespecting their mothers and prom dresses and cursing.
Enclave reminded me of The Hunger Games from the get-go, but not in a derivative sort of way. Part of it was the violence, but unlike The Hunger Games, the violence that Deuce and the other hunters use is purely for survival, not for sport. It made it easier to handle from a plotline, but if you are sensitive to violence or prefer your children to avoid it, then you might wait on this one, because there definitely is some violence.
In the College Enclave, one of several underground communities, it's a struggle to survive. In fact, because life is so fragile, children are simply known by a number until their naming ceremony that happens when they are older teens. At that time, they are also given a job: Breeders, Builders, or Hunters. Deuce is a skilled fighter and is named a Hunter. It's a prestigious assignment, because the rest of the group depends on the Hunters for food and protection, but it's dangerous as well.
The Hunters often come in contact with Freaks, a sort of human/animal mutation who not only hunt but eat humans, and killing is the only way to survive.
Deuce gets paired up with a partner who is from "above ground," and made his way to the Enclave when his city was annihilated. Fade proves to be helpful when he and Deuce are sent out on a mission. They meet some strange original characters and situations along the way. Aguirre provides all the details from "the past" (i.e. right now, or even future to us) that make us connect with dystopian stories.
There is some romance, but I found it complementary to the plot and not a superfluous distraction.
Enclave is obviously the first in a series, but this novel stands alone as well. We are left feeling curious about what will happen next, but not left hanging, which I appreciate.
AUDIO NOTES: Emily Bauer narrates the story well. She is able to voice a teen girl convincingly and builds suspense in just the right places, making it an enjoyable listen.
I knew she sounded familiar, and sure enough, she also narrated Life As We Knew It, another end-of-the-world YA novel.
Jennifer Donovan doesn't fear the end of the world, but she does enjoy a good story, and thinking about a horrific future gives authors great fodder. She blogs at Snapshot.