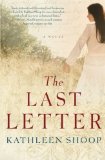 In the late 19th century, Americans may have been making their way westward with women sharing immense burdens in this new pioneer lifestyle, but the share of power in marriages was still squarely in favor of men. In Kathleen Shoop's novel The Last Letter, the injustice of this imbalance is felt on every page.
Jeanie Arthur, mother of three and member of the more elite society of Des Moines, Iowa, has a comfortable life in comparison to many Americans of the late 1880s. With a staff under her rule, she manages their home in style. She's distinguished among women of the time in that she is a published author, penning advice for homemaking under the "Quintessential Housewife" book series and newspaper columns. But when her family's name is shamed, due not to any actions on her part, she and her husband take their three children out to the Dakota Territory to start anew, and Jeanie soon discovers that without her staff to do the work, she is actually capable of very little in the pioneer homemaking arena.
Life is harsh in so many ways for Jeanie, from the foreign lifestyle to the sudden and tragic turns that the land can bring. Her marriage to Frank is almost an additional character itself in the novel, and it's not a likable one in the least. Jeanie's trials and tribulations last one year on the prairie until she is forced to make a life-changing decision for her entire family.
Historical fiction is definitely out of my own personal reading comfort zone, and I struggled in the beginning to get my mind into the time period. With a 21st century mindset, I found myself frustrated with Jeanie's inaction toward her no-good husband, but I soon adjusted my thinking to become more compassionate to the limitations Jeanie faced at the time.
There is a factor of predictability at some points in the novel, although I was still taken by surprise at a few other turns. While the majority of the story is told from Jeanie's perspective on the prairie, interspersed throughout are a few chapters written in Jeanie's daughter Katherine's adult voice in the early 1900s, and it is their relationship that becomes the focus by the end of the book. Regardless of the century in which a story takes place, most women can relate to the complexities of mother-daughter bonds, making The Last Letter more relatable than I first imagined.
Life in a 21st century urban setting shares very little with the 19th century prairie, and in place of exchanged letters, Dawn's life is recorded on her blog, my thoughts exactly.