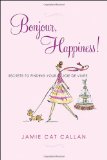 When the humanitarian organization we worked for in Africa offered us a chance to live in France for a year, we snapped it up. We settled in a tiny apartment on Rue d'Angleterre in the town of Chambery, located in the foothills of the Alps, and adjusted quickly to life in a mid-size French town. We walked everywhere, went shopping daily, bought fresh flowers more often, and tried to adapt as much as we could to what we saw as an unusually attractive and healthy approach to life.
We admired the French people's ability to balance work and family life, their emphasis on quality over quantity in everything from portion size in restaurants to the number of outfits hanging in one's closet, their focus on deep friendships and evenings filled with wonderful food, wine and conversation.
Jamie Cat Callan had a similar observation and reached a similar conclusion, except that she wrote a book about it, explaining to American women how they could make their everyday lives just a little more French in the good ways. Read my review of Bonjour, Happiness at the Kirkus Reviews blog, and please let us know what you think by commenting over there!
Elizabeth loved living in France and hopes to return some day, although her children feel her accent is atrocious. Read more of her expat adventures at her blog Planet Nomad.