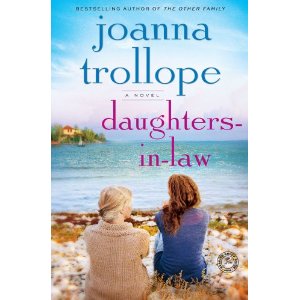 I'm a mother of three teens and I know how my family runs pretty well now, especially as I am largely instrumental in this. We have our quirks, our ways of doing things. The kids know what to expect, and how to deal with strange parents and those evenings when suddenly everyone is chattering in French and snapping tea towels at each other and one person is whining, exhausted, but still knowing underneath it all is a great and encompassing love. (yes this was last night at our house)
How will I deal with it when my kids marry and bring new people into the mix? I've seen this in my own life, as I've come into my husband's family and watched him come into mine. I've seen the uneasiness with old jokes and the rolled-eyes at the parental foibles; I've watched parents succeed to varying levels in letting their adult children be adults.
In Daughters-in-Law
, Rachel and Anthony have 3 grown sons and a definite way of doing things. Their house is colourful and chaotic and just how Rachel likes it. Without realizing it, she has invested herself heavily into being the one in control. But as her sons start to marry, her daughters-in-law bring their own perspectives and decisions to the table, and Rachel isn't entirely happy about it.
The novel opens with the marriage of the youngest son, Luke, to the stunning Charlotte. The oldest, Edward, has married a Swedish woman, Sigrid, and they don't make ripples, although Sigrid and Rachel did have a major altercation years earlier. Ralph is married to Fiona, a young woman whom he met through his parents; she's the favorite daughter-in-law, practically adopted into the family before she ever met any of the sons. Now Charlotte, young and impervious, has come into the family, and she has no intention of giving up the way she's always done things just for her new mother-in-law. Then the compliant and dreamy Fiona does something earth-shattering, in her own quiet and stubborn way, that shakes the extended family to the core.
I loved Daughters-in-Law
because it rang so true. The characters and their struggles were so absolutely believable, all their reactions, their words, their feelings. All the betrayals, the small but horrible ways families sometimes treat each other, hurts left unspoken and festering quietly for years while Sunday dinners go on and outward life looks smooth. Sometimes the characters would make stupid choices and I would want to shout at them, but I also enjoyed watching them learn to understand one another, to grow and change, to take charge of their own lives and ownership of their own decisions. None of them were perfect, but that might remind you of your own family.
I thoroughly enjoyed this novel.
Elizabeth still has some time to brainwash her own children regarding what is normal before she has to worry about adding inlaws to the mix. Read more about her wacky family at her blog Planet Nomad.