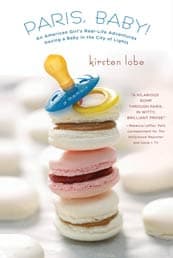 I love memoir. I especially love memoir that transports me to a different time or place. In Kirsten Lobe's memoir Paris, Baby! she combines the familiar — a first pregnancy and baby — with the completely exotic — life as an expat American living in Paris. The book is candid, funny, and sweet. I loved it.
Please click through to read my full review of Paris, Baby!, where you can also leave a comment if you'd like to win your own copy.
Comments are closed here to remind you to read my full review of Paris, Baby! and comment over at 5 Minutes for Mom for a chance to win!
Jennifer Donovan has only been to Paris once, but it's a city she hopes to visit again. As for revisiting the first year of motherhood? She has no plans for that. She blogs about travel when she gets a chance to, at Snapshot.