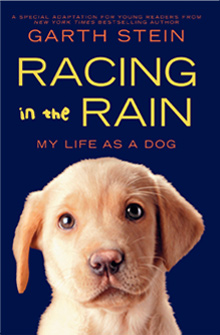 When I began to see this cover around, I thought "This is the book that won't die!" I had not realized that Racing in the Rain: My Life as a Dog was a different book from The Art of Racing in the Rain: A Novel that came out a few years ago, and was all the rage (I was enticed by it when it was featured as a Starbucks book pick, the first ever, I believe). Recently a neighbor mentioned that they were reading it for bookclub, and like I said, I was seeing the cover everywhere again.
What gives?
Racing in the Rain: My Life as a Dog features the same lovable Enzo, and it's a novel told from a dog's POV, but this version is the same story told as a "junior version."
It seems that lots of adults are picking it up again — either this version or the original. Honestly, in reading it three years after I read the original, it isn't feeling so different. The writing level is probably simplified, but the heavy emotional issues are still there, making it a book that I would recommend for more mature readers (Enzo is an aging dog that knows he's going to die soon, another character has cancer, and even the way that certain things are presented, such as Zoe's conception and arguments between Eve and Denny don't necessarily seem retooled for a young audience — more YA than middle grade).
But it's not so precious that it will only appeal to dog lovers. However, as a dog lover, I loved the fictitious look into an intelligent dog's head, but I've heard from many who are not who still enjoyed this. Enzo is like a wise soul, observing everything going on around him, like a good narrator of any book.
I was able to ask the author Garth Stein a few questions about this new release, which added even more interest to the story and the concept:
Why did you decide to share Enzo's story with children? Do you think that they are more likely or less likely to trust him as a narrator?
Garth Stein: I really felt that children could identify with Enzo's limitations. Enzo has no thumbs so he can't open doors. His voice is limited by his floppy tongue. He depends on people for food, water, transportation, to change TV channels for him. If you look at the limitations children live with, dogs and kids are almost the same. Kids have to ask for permission to do things. They depend on their parents for food and water. They need to be driven around. They have a lot to say, but sometimes adults discount them. Actually, now that I think about it, maybe trust is the issue: children would trust Enzo long before they might trust an adult!
When I realized the dog/child similarities, I thought it would be great to get my book into the hands of young readers. I knew there were certain issues with adult language and content, so my editor, Alyson Day, and I worked these things out and now Enzo can be read by all ages!
How does telling a story from a dog's point of view help you move the plot along? How does it hinder?
Garth Stein: For me, the important part of telling a story is making the narrator a compelling voice. Enzo has that compelling voice, partly, at least, because he is a character in a classic double-bind. Enzo has a nearly human soul, and he feels limited and trapped by his dog body. He believes he will be reincarnated as a person in his next life, and he would like to get on with it. So on the one hand, he wants to hurry up and be done with this present incarnation so he can move on. On the other hand, Enzo loves his family–Denny and Eve and Zoe–so much, he doesn't want to leave them. Therefore, he wants two very different things, and he can't have them both. Out of this tension grows a character and a character's voice. That Enzo is a dog is almost irrelevant. That he is a compelling character who is terribly conflicted is really at the heart of it.

Are you curious? I have a copy of Racing in the Rain: My Life as a Dog to give away to one of you (perfect for adult readers or mature younger readers). Leave a comment if you'd like to win. We'll announce the winner on August 31.The giveaway is closed.
More details about both Enzo books can be found on a special microsite from The Book Report Network: http://racingintherain.bookreporter.com. Features include interviews with Garth Stein and a family reading guide with ideas on how to make reading about Enzo a fun activity.
Readers can visit GoEnzo.com to sign up for Garth's newsletter, or connect with him on Facebook and Twitter @GarthStein. Readers can also purchase Enzo-themed merchandise at the Enzo Store.
Jennifer Donovan is a proud dog-owner and is convinced that they are more observant than we'll ever know. She blogs at Snapshot about her family, four-legged and the more human variety.
Check out our current giveaways. Subscribe to our feed. Follow us @5M4B on Twitter or on Facebook.