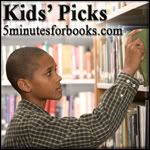 I know that many of your kids are out of summer and back into school. Do you think that will be good for their reading or not? I know that some kids get so bogged down with activities and the assigned reading that their leisure reading falls way off once school starts.
Amanda used to be that way, indulging in binge reading on the weekends, until she entered intermediate school last year. Her school's librarian has lobbied hard to incorporate "real reading" into the curriculum. So they are expected to read a lot, and they are given time to read throughout the week at school, and they are largely able to read whatever they want. All that to say that last year she read even more than she usually does because of the time she was given time to indulge in reading while at school.
We still have a few weeks of summer vacation, which means we are still making regular trips to the library, and I'm still reminding the kids to turn off the TV and/or computer and pick up a book.
I linked up my kids' reviews below, and I invite you to do the same. Share a title that your kid would recommend to other kids. You can write up a review (or do like I did this month and let your kid put it in her own words). If you don't have a blog, leave a comment with one of your kid's picks for August.
Join us for our other weekly community events: