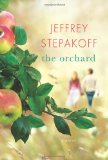 From backyard picnics to book clubs, stay-at-home multi-tasking moms and working women alike admit to sharing my confession — I read fiction to escape. The Orchard by Jeffrey Stepakoff, offers just that, a soothing, sensory stay-cation of the best kind.
I am convinced this book was meant to be enjoyed from some summer destination — a low chair on a sandy beach, a deck near the lake, a hammock swaying in a light summer breeze — and meant to accompanied with a snack of ripe fresh fruit. But I live in Scottsdale and the first afternoon I escaped with Grace Lyndon I had only the steady hum of my air conditioner and the lemon and orange slices stacked in my iced tea.
Grace is a single attractive career woman, a master of her craft, discovering and recreating the origin of all scents and taste. The story opens in the rainforest, where Grace shimmies the big Merbau tree simply to capture the enduring essence of the orchid fragrance, in Grace's words "a rare species whose seeds took flight on tropical breezes."
Jeffrey Stepakoff (author of Fireworks Over Toccoa) has created a passionate story for the senses. Through the unique characters in this story, he paints pictures, scene by scene that awaken your senses, scents that evoke your emotions and a plot line with hint of mystery that keeps you invested and curious.
Much of the sensory journey occurs in Dylan Jackson's orchard, where Grace is led after taking a bite of his orchard's apple that she describes as a full experience of all the senses even though it is "a product of earth and rain and sun." Jackson is a widower of three years, and lives with his perceptive young daughter, Carter whose insightful character is delightfully woven throughout the story.
Dylan first encounters Grace on the telephone and again later that night as she begins her night quest journey to his orchard. Their conversation stirs him, and this description early in the book captures the romantic essence of this story:
Dylan stopped in the orchard… thinking about the disembodied voice of this woman whose body he now imagined. He let it drift about for a moment, searching for clues in her sounds and words, in her sighs and breath, that might create a fuller image of her.
This love story doesn't move along with princess tale precision but instead takes its own mysterious path which includes Dylan's resistance to Grace, based on his belief described here that he can feel his dead wife Rebecca Jane in his orchard:
She loved the orchard as she had loved him, and keeping it was somehow to keep her. Memories on the mist could end a man, but keeping the orchard alive was somehow to keep her alive.
The plot twists continue after Dylan sees his dead wife in an elevator in the Peachtree Plaza Hotel, and Grace fights her own vulnerability as she focuses on her future career plans and not Dylan's presence and position in her life.
If you read fiction to escape, have ever been consumed by a scent that could sweep you away or the unique taste of something you can't get enough of you will find The Orchard to be like Grace's first bite of Dylan's apple… "an experience that uses all your senses."
Guest contributor Suzanne is an avid reader, obsessive coffee drinker, wannabe knitter, advocate for kids with special needs, and a reunited adoptee. She blogs at Special Needs Mom and is a contributor to 5 Minutes for Special Needs.