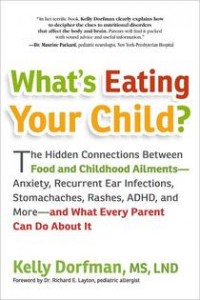 For the past few years, I have dealt with recurring health issues: reflux, eczema, sinus infections, and anxiety. After reading that they could all be connected to my digestive system, I made extreme changes to my diet. I have stuck with these changes since March 30th and have seen drastic changes. My eczema and sinus issues are completely gone, and my reflux and anxiety are 95% better. I expect complete healing with time.
After seeing such great improvement in my own health, I wondered about my children. Are some of their issues connected to food as well? In her new book What's Eating Your Child, Kelly Dorfman explores the relationship between food and common childhood ailments. I hope you will click over to the Kirkus Reviews blog today to read about this book. I highly recommend it!
Lauren is a wife, mother of two, and an avid reader. She blogs at Baseballs and Bows.