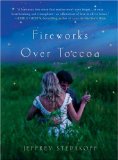 Thanks to all the bloggers and bookclubs who responded to our call out for reviews of Jeffrey Stepakoff's Fireworks over Toccoa.
This is the post for you to link up your reviews.
It's my thought that this review would not include spoilers, because who likes that?? Obviously you can discuss the major plot line (anything covered in the amazon.com editorial reviews is fair game), but not the specific plot twists and resolution.
However, I think that to really discuss this book, to express your feelings about the book, you have to discuss some of the plot. Do you agree?
In the next couple of days, I will post some discussion questions. I will include a separate linky at that time, and those who want to really share thoughts about the book can link up a separate review visit around and comment and have a little bookclub "chat" can do so. This is also where those of you whose bookclubs received copies will discuss it — in the comments, or perhaps by sending me Word doc summary of your discussion of this book, or an email, or even a short video (how fun would that be??).

Remember, anyone who links a review up here by April 13th at 8:00pm EST (whether or not you received the book from our promotion) is eligible to receive a $25 amazon gift certificate.
The review has to be posted on your blog, and linked in here by that time for you to be eligible.
On April 14, I will randomly select one person to receive the gift certificate.
Any questions? Let me know. Otherwise link up:
**This is part of a paid promotion between 5 Minutes for Books and the publisher, St. Martin's Press.**
Check out our current giveaways. Subscribe to our feed. Follow us @5M4B on Twitter.