Check out our NEW (yes, new again) schedule for Bookclub. Because we saw The Guernsey Literary and Potato Peel Society on so many lists, we are going to add it in as our September pick. So join us on September 1 to discuss it!!

October 6: Rooftops of Tehran

November 3: Any work by Louisa May Alcott

December and January: off months — eat some extra holiday pie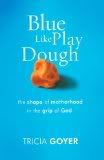 Before I had children, I thought my primary job as a mother would be to mold and shape my kids. As a Christian mother, my desire was to mold them and shape them so that they would grow and conform to Christ's image. Through the years, my desire to train and nurture them in the admonition of the Lord has not changed, but I have learned that God has used motherhood to transform me in ways that I never expected.
I am sure that many of you have experienced this shaping process. Tricia Goyer admits that she has, and thankfully, she is talented enough to write about it for all of us! In her new book, Blue Like Play Dough
, Tricia shares experiences from her own life and reflects on how God has used motherhood to mold her into the person He wants her to be. The stories in Blue Like Play Dough
will remind you of events in your own journey, and they will also help you to reflect on how God has shaped you.
One of the aspects about Tricia's writing that I appreciate is her honesty. Tricia freely shares about her own experience with abortion, teenage pregnancy and motherhood, and her successes and failures as a mom. This is not a book about how one mom got everything right, but how God allows all events and experiences in our lives to change us so that we may be conformed to the image of His son. Additionally, Tricia includes stories from all phases of motherhood, so any mom will find relatable stories, no matter where you are on your own journey.
I am not alone in my praise for this book, Jennifer recently reviewed Blue Like Play Dough
as well. Be sure to read her thoughts if you haven't already.
If you are interested in winning a copy of this book, leave a comment here. We will name one winner next Wednesday.
Also, check out Tricia's Give One, Get One (GO-GO) Campaign. For every copy of Blue Like Play Dough
purchased, Tricia will donate a copy of My Life Unscripted or Generation NeXt Parenting to a pregnancy, teen or family support ministry (while supplies last). Click on the picture below for more information.

Congratulations to redhead.kate, the winner of The Precious Girl Club Book and plush toy!
Lauren is a wife, a mother of two, and an avid reader. She blogs at Baseballs and Bows.