Reading around the suggestions that people made for Children's Classics Chapter books this week has just made me smile. Each post I read either uncovers a memory from my own reading childhood, or Amanda's or has given me a great new book to add to "the list". One author that appeared more than once was Roald Dahl. It reminded me that I don't think I've ever read Charlie and the Chocolate Factory. So when I took the kids to the library yesterday, I checked it out — for myself.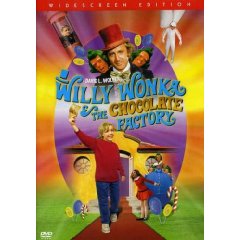 I was of course familiar with the movie–the 1971 version featuring Gene Wilder, which is actually called Willy Wonka and the Chocolate Factory. I always liked the movie. I mean, who wouldn't like a movie with songs that warn kids against the danger of gluttony, gum-chewing, and excessive television viewing? In that sense, this book written in 1964 is amazing in its timeless themes. I'm a sucker in general for musicals, and I think that this is a good one. "I've Got a Golden Ticket" always warms my heart.
The 2005 version features a quirky Johnny Depp in the role of the chocolate genius. It follows the book a bit more closely, and uses the book title as the name of the book: Charlie and the Chocolate Factory. It also introduces such characters from the book who were not in the first movie, such as the Indian Price Pondicherry.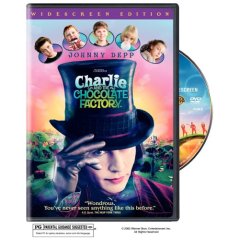 I had always heard that the more recent movie wasn't any good, so I had never made an effort to see it. I noticed that it was on TV one night last month, so Amanda (9), Terry (my husband) and I watched. We all really enjoyed the movie. Yes, it's different from the first. No, it's not a musical (save a few musical numbers by the munchkins, who are computer generated and similar in scale to the book's description as opposed to little people). Yes, it is updated a bit (Mike Teevee is addicted to video games on the television, and Violet Beauregard is also a competitive athlete, which I think adds to the spirit of her character nicely). Johnny Depp takes the oddness of Willy Wonka to a whole new level, but for us, he made the movie. He just knows how to do quirky.
I did finally read the book this week, and I loved it. Being familiar with the story from the original movie (and more recently the second movie), I wasn't disappointed. I think that both movies convey the plot, theme, and overall feel of the movie nicely.
So did you see the 2005 Johnny Depp version? Am I alone in liking it and finding it true to the book?
Managing Editor Jennifer Donovan has been blogging at Snapshot for over two years.