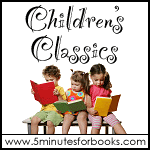 Welcome to the first Children's Classics carnival, which will be held here on the second Tuesday of each month. This month we are focusing on Chapter Books for the "middle grade" reader (8 – 12).
In the main Children's Classics post, I gave a few suggestions to get your review juices flowing. You can use these for a guideline, or take a different approach. Just share your knowledge or love about a particular classic children's book or author.
Would you recommend the book? To whom?

If you wouldn't recommend it, why do you think it's been so popular?

Has your child recently discovered a classic author? What is his or her perspective on the differences in classic and contemporary children's writing?

Have you recently shared a childhood favorite with your own child? How did you each respond to it?
Next month (September 9) we will focus on picture books. For this first month tackling this genre, please share about one (or more) of your childhood favorites. Was there a book that your parents wore out, because you requested it every night? Perhaps you have memories of "reading" a certain book that you had memorized, or maybe you really did learn to read with a favorite.
So for today, write up a post on your own blog about a favorite classic chapter book, then enter the link to the direct post right here. Come back throughout the week to read around, because I'm sure people will be adding links throughout the week. To make is easy for people to use as a reference in the future, please include the title of the book you are reviewing in parentheses after your name. See my example below.