I love going to the mailbox. Now that I am reviewing with the 5 Minutes for Books team, the walk to the end of the driveway is even more exciting. When I lower the hatch and find new books, I am giddy! My children, however, do not pay much attention to my packages. Their usual response is something along the lines of "Oh, another book for Mom."
My kids' response changed when I received a package from Barefoot Books. I had their attention from the moment I pulled the books out of the box. The bright colors and attractive illustrations caught their eyes, and I immediately had a captive audience.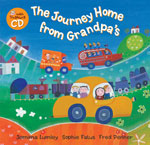 The excitement grew when we discovered that two of the books, The Animal Boogie and The Journey Home from Grandpa's came with CDs as well. We headed to the CD player and settled down to listen to the stories. We didn't sit for long. The stories are so lively that the kids started dancing and singing while looking at the illustrations. Even my cool, six-year-old boy couldn't help but join in with the catchy phrases. The stories are just plain fun! (As a former educator, I would also say that the books are well designed and include important concepts for children, but my kids only care about the fun.)
Later, as I browsed the Barefoot Books catalog, I was very impressed. They have titles for a wide range of ages, and the content of the books is diverse as well. All of the books list an appropriate age range for listening and reading, and I found the books I sampled to be accurately labeled. Additionally, these books represent children of all races and special needs. Kids love to see themselves in the books they read, and that is possible for all children with these stories.
I couldn't help but notice how many of the books have won awards, including awards from Oppenheim, Parent's Choice, Booklist, and other notable agencies. I understand why. Barefoot Books are the kind of books that will ellicit the response, "Read it again, Mommy!" Of course, if you choose a book that includes a CD, you can always set it to repeat. (Not that I would ever do that!)

Melanie from Barefoot Books is giving away a copy of The Animal Boogie to one of our readers. Please click over to the Barefoot Books site, and then come back and tell us the title of a book that appeals to you in the comments here. One lucky winner will be announced next Wednesday (The giveaway is now closed).
Lauren is a wife, a mother of two, and an avid reader. She blogs at Baseballs and Bows.