Recently I attended a luncheon sponsored by Stop and Shop/Giant. It was at Sarabeth's restaurant in New York City, where my husband and I had eaten brunch several times (and enjoyed her delicious homemade scones and jam). The decision to attend a delicious lunch in one of my favorite cities with the chef/owner of a restaurant I loved was a no-brainer (I posted details about the luncheon on my blog along with a picture of Amanda and me with Chef Sarabeth).
After the Stop and Shop executives talked with us, chef Sarabeth Levine chatted with us while she made us chocolate chip cookies. She wanted to encourage us to cook and bake. She wanted to remove the fear from baking. "It's not hard, you just have to measure," she told us.
She also wanted to make sure that we were inviting our children into the kitchen with us. She said that otherwise a whole generation will grow up not knowing how to cook.
Both of my children have been stirring brownies since they were old enough to sit on the kitchen counter. This summer, Amanda (who will be 10 next month) has prepared several meals for us. Throughout the process she beams with pride as her brow furrows in concentration.
I recently received a copy of Real Food for Healthy Kids: 200+ Easy, Wholesome Recipes. I handed it over to Amanda, thinking that I would get the opinion of my "real kid." I told her to select some recipes that looked good, and she did.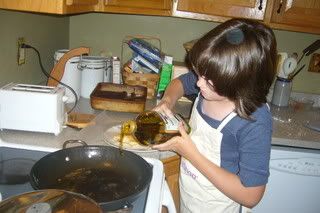 This week she prepared two recipes from this cookbook — "Quick Chick Parm" and "Chicken Enchilada Casserole" — by herself from start to finish. They were both good, and I would make them again. I mean, I would have her make either of them again. It probably tasted better because I didn't cook it, right?
This is not a children's cookbook, but the recipes are designed to appeal to adults and children alike. I was impressed that Amanda saw the recipes as accessible, even though there are no pictures. The short ingredient list contributed to this, and she also liked the sidebar that lets the chef know how much prep time and cook time the recipe takes.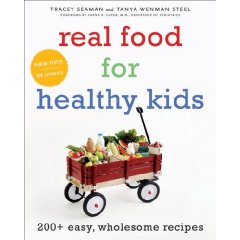 If this book lacks pictures, it excels in information. The two recipes my daughter selected came from the "What's for Dinner" chapter. There are also chapters devoted to breakfast, lunch, and snacks. The sweet stuff is not neglected either. Sweet drinks (hot and cold) get a chapter, as do "divine desserts" and the cookie jar. The final two chapters are devoted to special groups: an introduction to food sensitivities featuring gluten-casein-soy-free recipes, and "first foods," which features recipes for 6- to 36-month old children.
If you'd like to win one of 2 of these cookbooks, please leave a comment here. I'll announce the winners on Wednesday, August 27.
Managing Editor Jennifer Donovan is a contributing editor at 5 Minutes for Mom. She has been blogging at Snapshot for over two years. You'll almost always find her holding either a book, a fork, a child's hand, her laptop, or some combination therein.

Read all of the other posts in this series on food for your family and grocery shopping featured on our sister sites today:
Save Money (and enter to win) at 5 Minutes for Mom
Save Money and the Earth at 5 Minutes for Going Green
Stay Sane at the Supermarket at 5 Minutes for Parenting
Shop with Special Diets in Mind at 5 Minutes for Special Needs