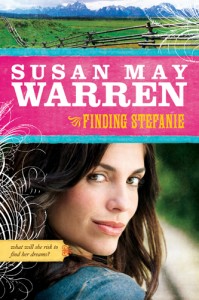 As a middle Tennessean, I have lived near rural areas my entire life. I would have to say, however, that I am not a country girl. I don't enjoy working outdoors or taking care of animals. As much as I dreamed of being Laura Ingalls, I would have been a miserable pioneer girl.
When I started reading the first book in Susan May Warren's Noble Legacy series, Reclaiming Nick, I was skeptical. The Noble family lives in Montana, and they are ranchers. It didn't sound like a book for me. I was pleasantly surprised. The story was a page-turner, and I liked it so much that I immediately read the second book in the series, Taming Rafe.
Because I enjoyed the first two books, I looked forward to the release of Finding Stefanie, the final book in Mrs. Warren's series. Stefanie Noble has always been the responsible one; she stayed home to run the ranch while her brothers sowed their wild oats. Now, however, she is assessing her life and wondering if it is all she hoped it would be. When a famous actor moves to town, Stefanie's life turns upside down, and she is forced to deal with the dreams and struggles she has kept hidden for many years.
Finding Stefanie is the kind of story that is easy to read and difficult to put down. As a character, Stefanie is relatable, and her struggles will ring true with many women. My only disappointment was that I figured out most of the ending ahead of time. All three books in the series follow a similar pattern, and this prepared me for the final chapters. I still enjoyed the book, however, and I was sad to say good-bye to the Noble family.
If you are interested in this book and would like to read the first chapter, click here.
Lauren is a wife, a mother of two, and an avid reader. She blogs at Baseballs and Bows.