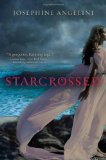 Here are some things you'll need to know to make sense of Helen Hamilton's world:
The gods (as in Greco-Roman mythology) do exist, and they did have offspring, who are able to pass their special demigod powers on to their children even though they themselves mate with mortals.
The Iliad is a historical document.
The Scions, as these demigods call themselves, are descended in 4 houses, depending on the original founder. Because of the crimes committed during the Trojan war, as soon as a Scion spots a member of a rival house, the Furies appear, shedding tears of blood and driving both Scions into a murderous rage until they kill each other. Then they are punished for having committed murder.
The Furies are not logical.
Helen knows none of this and yet has never felt entirely normal. Which, considering she is in denial about her ability to actually fly, not to mention shoot lightning bolts, makes sense.
Starcrossed
is the latest retelling of ancient myths in a modern world, and it's a fun one. I will warn you that it starts awfully slow, so keep going. I read a quote somewhere that called it "Percy Jackson for the teenaged girl" and I can see it—it has the entertaining elements of Percy Jackson plus the romance, the strong boy who comes to the rescue of the girl who doesn't realize how gorgeous she actually is, the boy who loves the girl for who she is and is willing to put hers and other's needs above his own. Plus he's super-hot. Insert dreamy sigh here.
Helen knows next to nothing of her mother, who abandoned her as a toddler, leaving her to be raised by her father, Jerry, a patient and loving man. She is tall and blonde, naturally, and her best friend is the tiny Claire, half-Japanese and spunky. When the Delos family arrives on Nantucket Island, Helen is at first infuriated by Lucas' mere existence, and can't make sense of her extreme murderous reaction to him. Gradually, she meets the entire family and learns more of what she is. She and Lucas fall desperately in love, but they can't be together or the entire world will be plunged into a cataclysmic war, which was almost exactly the same excuse my high-school crush used to explain to me why he couldn't go to Sadie Hawkins with me. Meanwhile, mysterious strangers are trying to kidnap Helen, and Lucas' cousin is trying to kill her. There's prophecy both ancient and modern, and the teenagers struggle against the Fates, trying to determine their own destiny.
Here's what Ilsa had to say:
It's true it did remind me of Percy Jackson, but it was still a really good book. Although Helen is beautiful and indestructible and all that, she still didn't take herself too seriously and I liked that, although my favorite character was Claire, because she's short and spunky. (Aside: as is Ilsa) Lucas has all the qualities I want in a guy, including intense hotness and the ability to fly (like Superman except without the tendency to wear his underwear on the outside). Lucas comes from a big extended family, all of whom are close and enjoy spending time together (not to mention all are extremely good-looking). His sister, Cassandra, has the gift of prophecy. His twin cousins have the gift of healing.
Lucas and Helen have more depth than a lot of characters in teen fiction. They consciously try to be unselfish, and when they realize they can't be together, they try to stay apart. Unlike Twilight (where Bella runs off with Edward even though she knows it will completely crush her father), Helen cares about other people besides her latest boyfriend. Starcrossed
was a good story, and it was hard to put down. I totally recommend it.
You can enter to win a copy of Starcrossed and 6 other YA books in our Giveaway: Dark Days of the Supernatural. The contest ends on June 15.
Elizabeth and her daughter Ilsa, 14, are both avid readers, although they don't usually read the same books. Read more of their interactions at Elizabeth's blog Planet Nomad.