Schools are letting out all over the country (one week left here, not that we're counting or anything!), and summer reading programs are launching to encourage parents and children to keep books on the daily summer schedule right alongside the rest of the fun the season has to offer. A partnership between iVillage and PBS Kids in the Summer Reading Community Challenge provides a free six-week reading program that will surely keep up kids' enthusiasm, as well as offering literacy resources for the parents accompanying those children to the library.
The Challenge started this week on June 6, but you can sign up at any time. When you register, you'll begin receiving daily emails with activities for your kids, as well as access to book suggestions for children of all ages and tips from the Coach, Angela C. Santomero, the brains behind Super WHY! on PBS KIDS and Blues Clues on Nick Jr. In addition, "guest coaches" such as cast members, characters, authors and series creators from PBS KIDS will also provide activities and ideas each week, and more resources are always available right at your fingertips at PBSParents.org/read.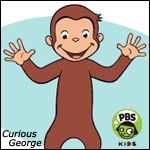 I'm happy to say that my younger children enjoy a few of the PBS Kids shows that already have literacy connections, such as Curious George and The Cat in the Hat Knows A Lot About That!, so I know that they'll enjoy activities that relate to these characters. I'm personally looking forward to the book suggestions, because even as connected to children's literature as I try to be, there are always more amazing books out there that we haven't read. As both a parent and an early childhood educator, I'm also interested in the tips and advice that relate to literacy development.
If you're looking for an online source for summer reading encouragement and activities, I encourage you to check out the iVillage and PBS Kids Summer Reading Community Challenge. Maybe we'll even run into each other on the message boards sharing our experiences or looking for advice!
I recently had the opportunity to host a "Summer Reading Party" with materials and goodies provided by iVillage and PBS Kids. I opted to bring the kit with us on our camping trip, since there would be a total of ten children aged three to ten among the five families camping together. I'm sharing my experience over on my own blog today in summer readin', had me a blast, and I'm wishing you all a summer filled with sunshine, cool drinks, and tons of great books for both your children and you!
Dawn's summers have been filled with books since the days in which her parents urged her to go outside and play. (She just brought the book with her and sat under a tree.) When she's not reading, she can be found blogging away at my thoughts exactly.