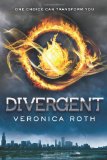 My 12 1/2 year old daughter Amanda recently read Divergent by Veronica Roth, a hotly anticipated new YA book. It's part of Harper Teen's Dark Days of Supernatural summer releases. If you click through the link, you can enter to win all 7 releases! The giveaway closes Wednesday June 15, so don't delay.
Since I haven't read this book (yet), but Amanda devoured it, I wanted to get her thoughts up before the giveaway ended.
This book has gotten quite a lot of buzz, and I think it's interesting to see that Amanda sort of nailed the dystopian/not dystopian genre debate.
It does sound like an interesting book and would make for a good summer read for teens and adults.
I know she's my daughter, but I have to admit that she's just a little bit adorable. Adorable might be for 6-year-olds. I might have to say that she's turning into a beautiful young woman. How can that be?
The video is a little dark. I guess we should have gone with one of our standard locations:
Jennifer Donovan loves sharing books with others, including her kids. She blogs about life with her 12 year old daughter and 7 year old son as well as her occasional adventures in Beverly Hills at her blog Snapshot.