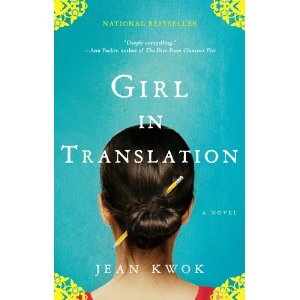 I had seen a lot of favorable reviews for Jean Kwok's Girl in Translation when it first came out in hard cover. When I was offered a copy of the paperback version, I was curious to see what it was all about.
I didn't know a whole lot about this book which focuses on the life of Ah-Kim/Kimberly and her mom after they immigrated from Hong Kong to Brooklyn. When her aunt sponsored them, they were excited about the opportunities that America offered, but in reality they end up living in deplorable conditions, in a condemned apartment with no heat that her aunt makes them think is all they can afford. Kimberly has to balance her studies with helping her mom out in the clothing factory as much as possible, so that she can make her deadlines, and even so — she thrives academically once she gets the language down.
This novel is a fictionalized account of Kwok's own life, and so it does read a bit like a memoir, but with the delight of fiction.
I was sucked right into Kimberly's life. I enjoyed seeing her grow up. I rejoiced with her successes and become completely enraged on her behalf as I saw how many injustices she had to overcome.
If you enjoy stories of immigrants, or coming-of-age stories, even if you generally prefer memoir to fiction, I highly recommend Girl in Translation.

Jennifer Donovan loves the peek that fiction and memoir gives her into the joys and struggles that others face. She blogs at Snapshot about her own joys and struggles.