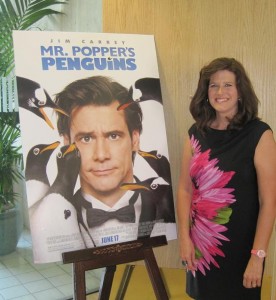 When I heard that there was a movie version of Mr. Popper's Penguins coming out, and I found out that it was distributed by Twentieth Century Fox, who has invited bloggers to cover some of their other family films, I was holding out hope that they would invite bloggers to cover this, and that it would be at a time that I'd be able to go, and might I possibly be able to meet Jim Carrey?
Well the answers to that were yes they did, yes I could, and yes, I did meet Jim Carrey. Stay tuned for the next couple of weeks. We'll be counting down until the June 17 release of Mr. Popper's Penguins with posts here and at 5 Minutes for Mom.
First, any of you who have read the 1939 Newbery-award winning classic book by Florence and Richard Atwater who have seen any movie previews will have noticed that this is a modern retelling of the story. There are lots of differences, but the basic theme is the same. I'm sure that for some of you booklovers out there, this is going to be a travesty of justice, but stick with me.
Honestly, when I saw the movie tie-in version of Mr. Popper's Penguins, I had mixed feelings. The cover looks sharp. The inside has a section of full-color photos from the movie with captions. I remember books like that from my childhood. It's fun.
Would you rather read this? Or would you rather read that?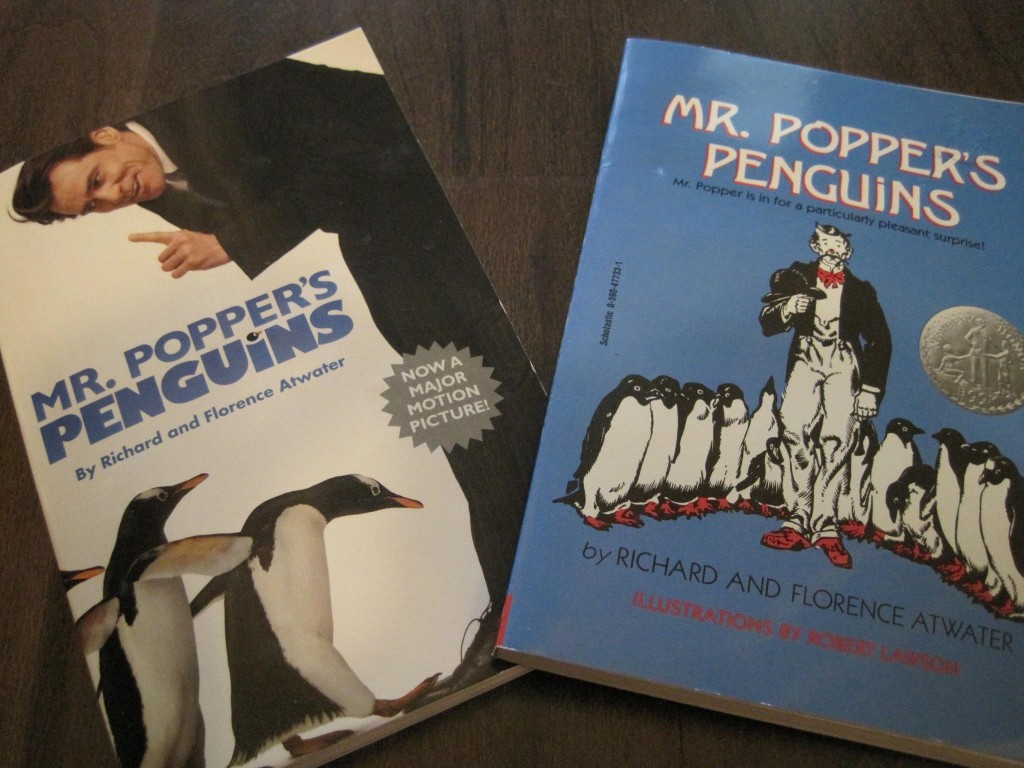 However, I also thought, "What are kids going to think when they see the movie then read the book (with a movie cover) and find that it's a completely different story"? But let me tell you what happened in my family.
I got a copy of the book at the junket, and I gave it to my 7-year-old son Kyle. He was pretty excited. Would he have been excited about it if he hadn't seen previews on TV for a month? In an effort to kick-start his summer reading, I told him that he had to read it before we saw the movie the weekend of June 17th. So, he started reading. And three days later, he finished it.
Honestly, if I had put a copy in front of him with the old cover, would he have been so excited to read it? If he hadn't been seeing previews for the movie starring Mr. Popper and the penguins for the last few weeks, would he even have stuck with it past the 1930s language?
When I reviewed Pam Allyn's Best Book for Boys, one of the things I liked about it was the books on her recommended list are more modern than in other books that recommend good books that I've read. In my experience with Amanda, kids do tend to judge the book by the cover.
The silver Newbery Honor seal is replaced by a silver "Now a Major Motion Picture" seal. But if an updated cover and a loose movie tie-in draw more kids and families back to this clever story by the Atwaters, then I'm in. And although book lovers might be skeptical, I have a feeling that those who go to the movie based on a love for the book will be glad that they went — in spite of the changes. The theme and the heart are the same.
Quick Movie Review
: Trust me when I say that you will like this movie more than you thought you would. The previews show silly slapstick humor, and yes, there's plenty of that — Jim Carrey is at his classic comedic best here — but if you'll remember the quick glimpse in one preview we get of Jim Carrey saying that he can't get rid of the penguins now, because his kids love them? That's the heart of the movie. Tom Popper and his wife Amanda (Carla Gugino) are amicably divorced. They share custody of their kids, and like my own parents did after their divorce, still did things like celebrate family birthdays together. But Popper is more about trying to close the next big real estate deal with Tavern on the Green owner Mrs. Van Gundy (Angela Lansbury) than tending to the needs of his family. You can tell he's failed his kids before. On top of it all, his daughter is a young teen, and those changes create an additional strain on their relationship (Since I have an almost-teen daughter, I loved this part of the film).
The unexpected arrival of the penguins give Popper no choice but to slow down and remember what's important.
Content note for parents: I would say that this movie is best for 6 and up (and trust me on the "and up" — your tweens and YOU will like this movie). Some of the bloggers with 3 to 5-year-old kids thought that some of the language pushed the limits, whereas I thought "Wow, no adult content!" If I never hear "What the. . . ." in a kids' movie again, I'd be a happy parent, but it is used in this movie a lot. When Popper mimics his texting daughter, he says "omg! omg!" a few times. I didn't notice any other swear words, and no lewd comments or jokes meant to go over the kids' heads, which is what really bugs me as a parent.
My kids haven't seen it, because I saw the screening at the junket, but we'll be there opening weekend, June 17. Will you?
The penguins shook up Mr. Popper's life, and I'll remember them as shaking up Kyle's summer reading as well. After reading the book in three days (practically a miracle based on his previous reading habits!), here are his comments about the book:
"Well, it's a great book. And there's a lot of it, and so you should read it. It mostly talks about the penguins, so tell your friends to read it."
Disclosure: Twentieth Century Fox sponsored my travel and other expenses for the Mr. Popper's Penguins press junket, where I saw the movie and interviewed some of the cast and crew. They have asked me to post about my experience, but my opinions are entirely my own.
Check out our current giveaways. Subscribe to our feed. Follow us @5M4B on Twitter or on Facebook.
More original posts on Mr. Popper's Penguins: