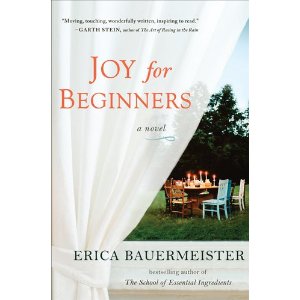 I've always believed that joy isn't just a feeling of happiness. It is something you have to choose, even in the midst of the trials of life. In Joy For Beginners by Erica Bauermeister, Kate challenges a group of her friends to pursue their own joy in ways that each of them need.
The women are a loosely connected group who were first put together by Marion to be a "baby-holding" help to help Sara out with her newborn twins (and preschooler son). When Kate was diagnosed with breast cancer, Marion thought it only made sense for the group to morph from helping out Sara to being there for Kate, a divorced empty-nester, in her time of need.
When Kate beat breast cancer, she did something that she never thought she would. She agreed to accompany her adult daughter on a raft trip through the Grand Canyon. She figured that she had cheated death once — why not expand her boundaries while pushing her luck a second time? At her celebration dinner, Marion thinks that each of them should make a pact to do something that is "scary or difficult or that we've always said we were going to do but haven't" (ARC page 8). Kate thought it was a great idea but added "I didn't get to choose mine, so I get to choose yours."
These women were all so different, and so readers will each relate to a different woman's struggles, which would probably make for a good book club chat.
I loved each of them in different ways:
Hadley, a young widow, trying to push through her grief and figure out life on her own
Caroline, bookstore owner (love her already!) recovering from a divorce and navigating life as an empty-nester
Marion, the glue of the group, who needs to be pushed to do something just for her
Daria, Marion's younger sister, an independent, artistic, free-spirit
Sara, a good mom, wrapped up in the needs of her family, who is challenged to forget all of them for a while
Ava, a friend of Kate's who couldn't be there for Kate during her illness and feels like she's being punished
and Kate, the survivor, brave but not maudlin
This book reminded me a great deal of Erica Bauermeister's first novel The School of Essential Ingredients. The characters and the plot are entirely different, but the beautiful, lyrical language that jumps off the page is the same, and each book looks at a loosely connected group of people, and devotes a section to each character.
I highly recommend both of these books.
Jennifer Donovan is pretty joyful, but probably needs a "Kate" or a "Marion" in her life to push her to take more risks. If she ever does, she'll blog about it at Snapshot.