When words and images come together, the beauty of a child's picture book is revealed. Those two components have a symbiotic relationship when you're dealing with a truly high quality piece of children's literature– when they are in perfect harmony, they hold each other up in a way that strengthens them both. These assertions most definitely apply to two picture books released this year, Hook by Ed Young, and Tsunami! written by Kimiko Kajikawa and illustrated by Ed Young.
With short phrases accompanying each illustrated page, the story of Hook is told, a beautiful eagle hatched from an abandoned egg who is cared for and supported by a young boy and an adoptive mother hen. Ed Young has created a simply told story of perseverance and encouragement here, and the illustrations defy description. I have no arts or illustrative experience, so my comments simply reflect my impressions from an untrained eye– the smudgy sketches give a soft impression, as if the feeling of caring could be illustrated. The muted colors convey the earthy feeling of the story, and when Hook finally soars high, the glory of the event is apparent in the expression on the eagle's face. Just magnificent.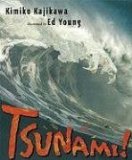 Next comes Tsunami, also illustrated by the prolific Ed Young, and written by Kimiko Kajikawa, a tale of sacrifice and heroism set long ago in a Japanese seaside village. When Ojiisan, the wealthiest, and perhaps wisest, man in the village reads the signs of an impending tsunami, he goes to great measures, and forsakes his own valuable crops, to save the people of the village. The message is clear from the get-go– Ojiisan sees the value in the people above all else, and he doesn't think twice to do what is necessary to bring them to safety. The illustrations are a beautiful and intricate blend of gouache, pastel and collage, that alternate between fiercely ominous and peacefully calm.
Fulfilling the grandeur that picture books can aspire to, and with Ed Young's illustrations leaving a long lasting impression, both Hook and Tsunami are worthwhile additions to any child's library.
When not drooling over the beauty of children's literature, Dawn can be found blogging away at my thoughts exactly.