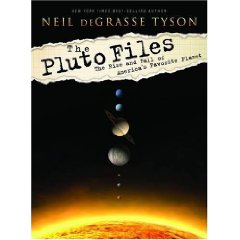 I confess it: there was an ache when Pluto was demoted as a planet. Not that I had ever previously cared about the former planet, Pluto. It just always was. It was the planet you took for granted and you didn't think about until it was gone. Melodramatic? Nah . . . human! We like the known and we're saddened when things change. I feel almost sorry for Pluto and I'm wondering how I'll remember to tell my son that there are only eight planets instead of the original nine.
Dawn and Jennifer told me about the book The Pluto Files
. One of them had heard about it on NPR and my interest was piqued. I'm not normally a fan of "science books" but have recently discovered a few titles that really caught my attention and held me captive for awhile. Therefore I was eager to give The Pluto Files
a try. I wasn't disappointed.
There are science-related books and then there are science-related books. This falls into the "fascinating and entertaining" category of the like. (Did you ever think science could be fun? If not, think again!) The Pluto Files
is written by Neil DeGrasse Tyson who is an astrophysicist with a wicked sense of humor. He spells things out and makes information very clear in a really funny way, with the inclusion of cartoons, pictures and letters from second graders who were extraordinarily upset by Pluto's demotion. The Pluto Files
is his entertaining answer as to why Pluto was demoted.
Tyson also does a great job in this book by opening with the history of Pluto. Did you know it received its name at the "whim" of an 11 year old girl in Oxford, England? Neither did I! This little dwarf planet certainly has an interesting history surrounding it, giving it great personality. Or perhaps that was Tyson's personality creeping in and taking over. At any rate, this book was a highly enjoyable and informative read and I enthusiastically offer it up for your reading consideration.
Carrie comes by her book obsession honestly, having descended from a long line of bibliophiles. She blogs about books regularly at Reading to Know.