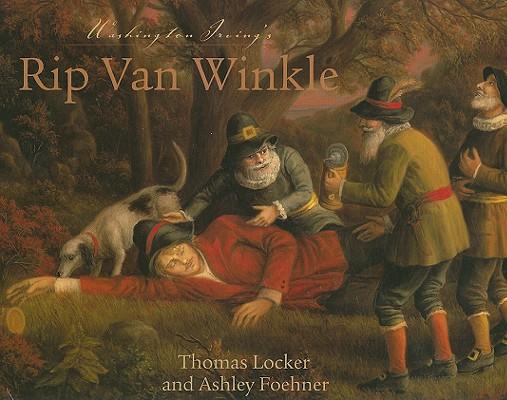 Who has NOT heard the story of Rip Van Winkle
? Surely you all know the Catskill Mountain tale of lazy ol' Rip who goes up into the mountains, runs into a rag tag band of mysterious men, and falls asleep, only to awaken after a long stretch of time to discover that he's an old man and his whole life has passed him by. I used to be fascinated by this story and loved hearing it as I was growing up. It positively blew my mind that anyone could sleep THAT long and miss so much LIFE!
I was recently delighted to discover a particular edition of this story which has been published by Fulcrum Publishing and fantastically illustrated by Thomas Locker. His illustrations of this particular story look like art gallery material. He really does an amazing job making this classic children's story live. Locker is a true artist who excels at his craft and I am excited to re-read this old favorite of mine while having the opportunity to pour over mini masterpieces all the way through. I wanted to make the picture of the cover art on this book as large as possible to give you a feel for the flavor this particular edition of the story. If you loved this story growing up and have any intention of introducing it to your own offspring, I heartily recommend this particular edition for its artful grace. I'm so glad for the opportunity to share it with my own little brood. Perhaps we'll save it for a bedtime story so that they too can be freaked out at the possibility that they won't wake up for twenty years!
Well now, you never do know, do you?
Carrie comes by her book obsession honestly, having descended from a long line of bibliophiles. She blogs about books regularly at Reading to Know.